This post contains affiliate links, which means I might make a small commission if you make a purchase. This does not affect your cost. Thank you!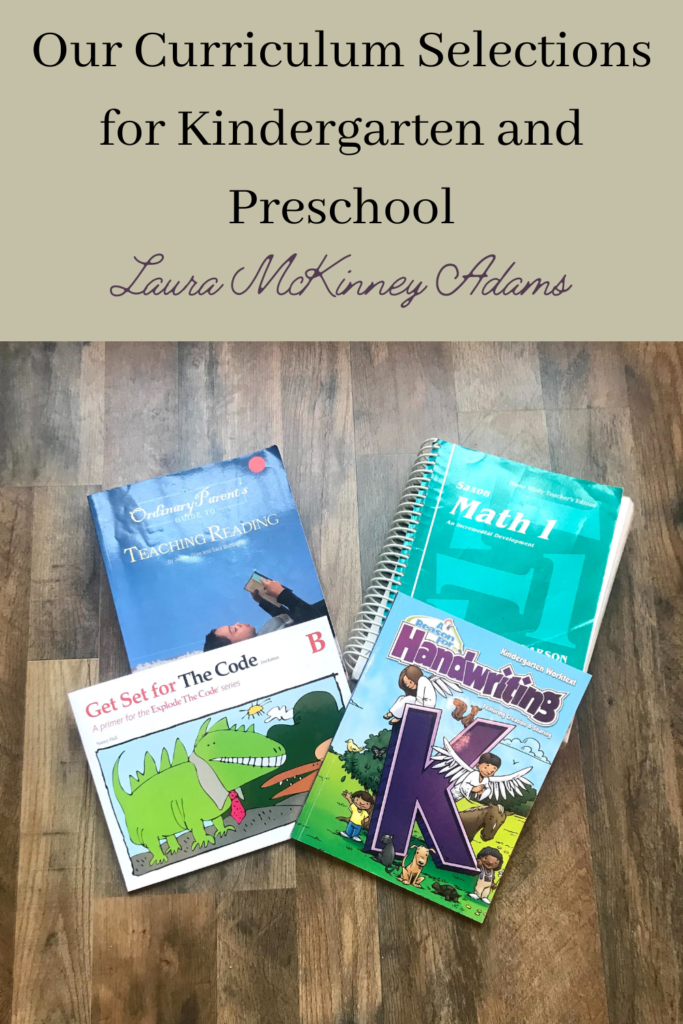 We're looking forward to beginning our 2021-2022 school year in mid-August. Choosing kindergarten curriculum has been fun, since it's the first year of "official school." This year I'll have a kindergartener, a preschooler, and a 1 year old. Yes, it is a party at my house!
Kindergarten: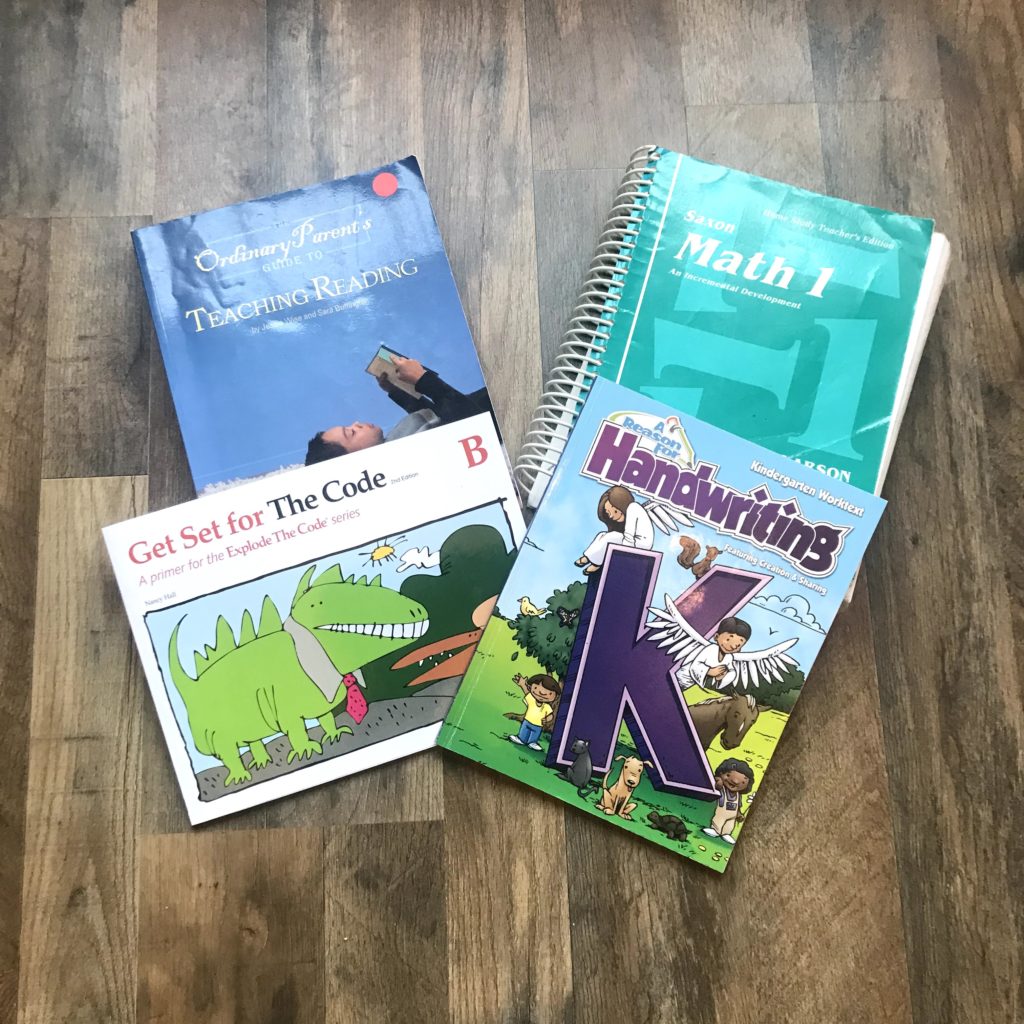 My oldest is a 5 year old boy who loves being active, looking at picture books, and building forts.
Math:
We're using Saxon 1 this year. He completed Saxon K last year during his pre-K year. Some people jump directly to Saxon 1 and skip Saxon K altogether, and you could definitely do that if you wanted. I wanted to be sure that I was giving him a solid foundation. Saxon 1 requires much more writing compared to Saxon K.
Phonics:
We will pick up where we left off in the Ordinary Parent's Guide to Teaching Reading. He is quite interested in books and reading. Ordinary Parent's Guide is intended to be used for multiple years, so only the first 60 lessons are considered kindergarten curriculum. My goal is to have him solid on the content of those 60 lessons by the end of the year. We will go past that only if he seems ready. 
I also purchased the Get Ready for the Code, Get Set for the Code, and Go for the Code books. He knows the material, but it's a good way to introduce the concept of a workbook page to him.
To supplement, we have assorted Bob books and other early readers for him to practice reading.
Handwriting:
My son already knows how to write his name, upper case letters, and lowercase letters, so at this point our focus is neatness. A Reason for Handwriting is a faith based handwriting curriculum. We will go through this workbook at his pace.
Morning Basket:
In an ideal world, I would have saved Gentle + Classical Primer for this year, but I didn't know better at the time. Oops. Then I started looking at other curriculum options and they were all rather expensive, and I already owned a lot of quality kindergarten literature, and before I knew it, I decided to put together my own enrichment program.
We lean towards a classical model of education, but there is quite a bit of overlap between classical and Charlotte Mason at this age. Drawing from the standard Charlotte Mason/morning basket topics, I selected a bible story, nursery rhyme, hymn, poetry, picture study, composer study, chapter books, picture books, gross motor skills, and life skills. The idea is to expose my son to practical life skills, as well as examples of truth and beauty. I decided to use mostly books that we already own. I added some crafts and other activities. Then I laid all of these moving parts into a grid in Google Docs. It is a fine looking schedule, if I do say so myself.
Preschool: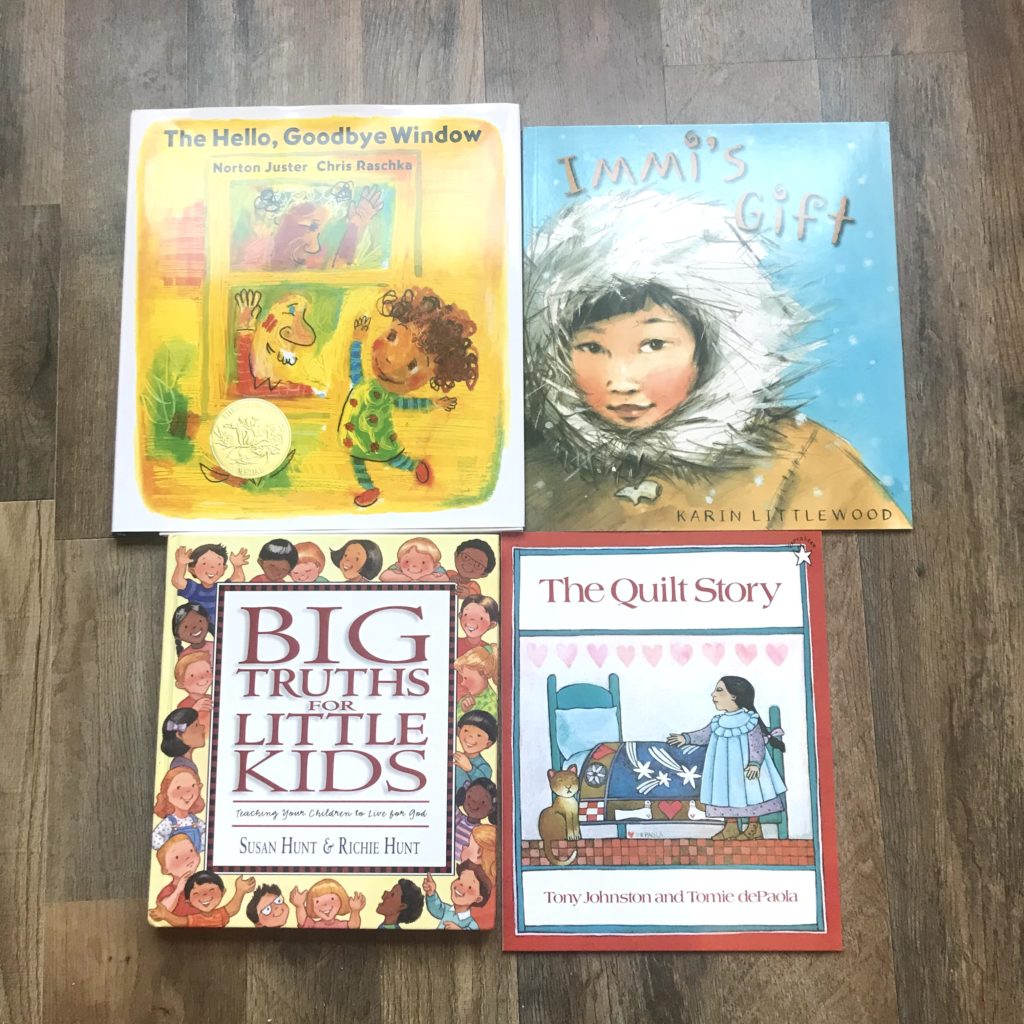 Originally, I wasn't going to do a specific preschool program for my 3 year old. However, he really loves having one-on-one time with me, cuddling, and being read to, so I chose Gentle + Classical Preschool for him.
The Gentle + Classical Preschool includes a letter of the week and a corresponding story, nursery rhyme, manners and hygiene, math, artist study and music, motor skills, all about me, catechism, character, poetry, a Bible story, and a handicraft and activity. We aren't going to be fully implementing every aspect because he'll do morning basket with his big brother. We will always work on letter of the week and the picture book, even if we don't get to much else.
I'm particularly looking forward to trying out Preschool Math at Home with him. Kate Snow's ideas intrigue me.
Toddler:
My daughter will be about 15 months old by the time we start school. Her primary learning objective is staying out of mischief. I hope to get some school done while she is in her high chair, some while she is napping, and some when the opportunity happens to present itself.
Let me know what you are planning on using with your littles during the upcoming school year!