This post contains affiliate links, which means I might make a small commission if you make a purchase. This does not affect your cost. Thank you!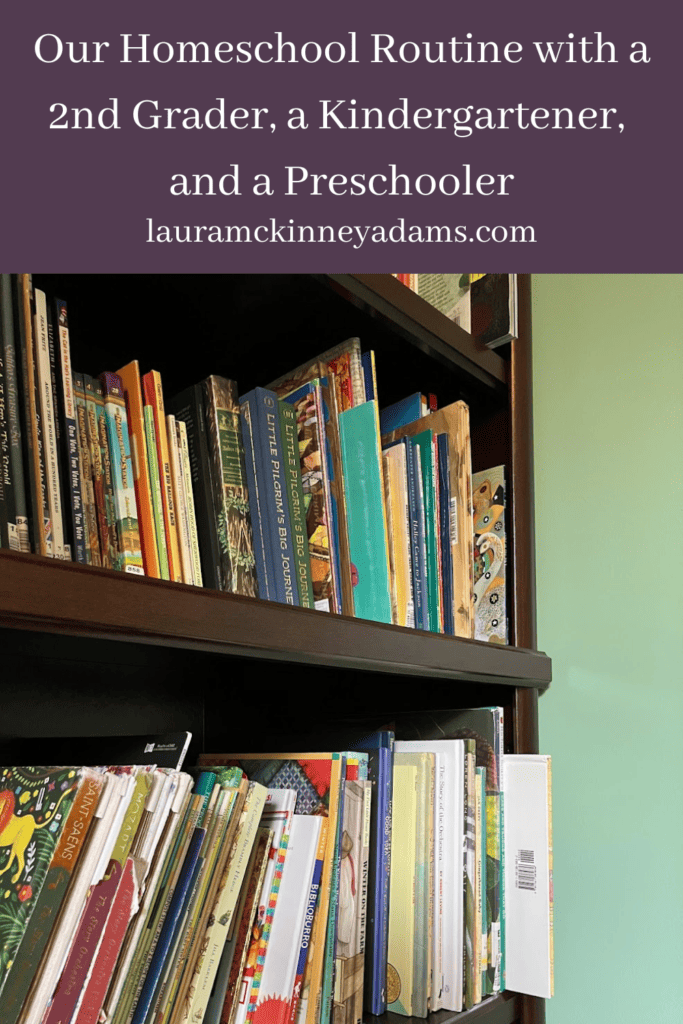 I get a lot of questions online and in real life about what our homeschool day looks like, so I write routine posts every 6 months to a year. We have finished six weeks of our school year and have worked out some of the bugs in the routine. We have settled into the following rough schedule.
I have three children. My oldest son is in 2nd grade, my middle guy is in kindergarten, and my daughter is 3 years old and in preschool.
We begin school between 8:15 and 8:30. My children stay on task better first thing in the morning. If I let them disperse after breakfast, it's difficult to reconvene later.
We always start with going over our Claritas memory work. I bought a Cross Seven membership and it was worth every penny! The Cross Seven website has all of the Claritas memory work set to music. There are videos with slides of the memory work as it is sung. This is our second year of Claritas memory work and all 3 of my kids love it. Claritas memory work covers Scripture, history, Latin, grammar, science, math, geography, hymns, and timeline.
I set up my Chromebook and press the play button. While the children are listening to "school songs," as they call it, I gather our books from the school cart and make a stack for each child. When a subject is completed, the books go back into the school cart. I have a three-tiered rolling cart from Michael's. Each child gets a tier for their school materials.
I decided not to do a full preschool program for my 3 year old this year. She primarily tags along with her kindergartener brother for Gentle + Classical Primer.
She loves coloring and crafts and does a lot of them while her brothers work. She particularly liked the About Three workbook from Rod and Staff. I really should have bought the entire set, but you live and you learn. I am not really a workbooks for 3 year olds person, but she is the youngest and likes them. I will say that I think Dollar Tree workbooks can suffice for this purpose.
She attends a letter of the week program at our library once a week. I try to point out the letter of the week throughout the rest of the week. We also proudly display her letter craft from the library program.
Over the summer, I filled the bottom shelf of our homeschool bookcase with preschool books of decent literary quality. My daughter selects one from the shelf and I read it to her. Sometimes my oldest goes ahead and knocks out his handwriting while I read.
One of my goals for my preschoolers is counting to 20, so she practices that with me. I use a hundred chart and point to each number as we count to 20. Her brothers also have hundred charts and this makes her feel included. I also teach her the next Bible verse from her Awana Cubbies book.
Next, I move on to working with my kindergartener. Sometimes he has worked on his handwriting page while I read to my 3 year old, and sometimes he has not and we need to start with that. He uses Saxon 1 for math. He is about halfway through the book because we started it last year.
We are pilot testers for a new and currently untitled phonics program. He will finish the pilot in May. He also has an Awana book he is working through for Bible memorization.
For everything else, we use Gentle + Classical Primer. At this point, I call my 7 year old and 3 year old back into the school room, because we do much of Primer as a family. Everyone listens to the classical music selection, everyone listens to the Bible story, and everyone listens to the selection from The Ology. Often, everyone wants to sit in on the Wonder Tale (Primer's term for literature) as well. I have the printed materials to go along with Primer, so we use the storyboards to aid my kindergartener in narrating the week's story. The storyboards are the highlight of his school week!
My kindergartener is working on memorizing the poetry and nursery rhyme from Primer.
My 7 year old gets in his exercise while his siblings have their turns with me. He is permitted to run laps in a designated area or jump on the mini trampoline. He is more ready to get down to work if he burns some energy first, and I am happy to let him be active.
At this point, it is the 2nd grader's turn to work with me. He does Saxon 3 for math and All About Reading for reading. He also works on his Awana verse and on his catechism. About three times a week, he works on Finding God's Promises, which is the 2nd grade level of Positive Action Bible curriculum. So far the main focus is learning how to look up verses in the Bible, which I think is an important skill.
At 10:00, regardless of where we are in the school flow, we break for a snack downstairs. All three kids eat a snack and listen to the songs from Song School Latin 1. This gives me time to unload the dishwasher or move a load of laundry.
I only bought a Song School Latin student book for my oldest, though the younger kids do listen to the songs and watch the teaching videos with him. I did not find the teacher's manual to be necessary, but the teaching videos are cute and memorable. My kids all love Simeon the monkey and the derivative river.
I have a read aloud directed more at my early elementary aged boys. My preschool girl is welcome to listen, but is not required to listen, and often goes to play in her room instead. Optimally, the read aloud gets done during the morning, but sometimes we have to read it in the afternoon.
After lunch, my 3 year old goes down for her nap. The rest of us complete whatever we didn't get to in the morning. We do science during naptime two afternoons per week. I could do a science demonstration with a preschooler underfoot, but I would prefer not to do so. Last year I didn't use a formal science curriculum. This year we are using Earth Science and Astronomy for the Grammar Stage from Elemental Science. It is aligned with the science memory work in Claritas. You need the teacher guide and the student notebooks. I decided to take it even further and order the supply kit for my convenience…and so I will actually accomplish the science demonstrations.
We usually do history during naptime two afternoons per week, but sometimes we manage to get it in during the morning. I read 1-2 chapters of Story of the World Volume 2 per week. Before the school year began, I compiled a list of corresponding read alouds and we read a book or two from that selection each week. If things are chaotic, the extra history readings are the first thing to go, but we just pick up where we left off and enjoy ourselves. If you are interested in books for the Middle Ages, you can check out my book list post here.
I do not keep detailed records of what I do with my preschooler. Each elementary student has a spiral notebook. Each day, I write the date and what day of school we are on (e.g. Day 27), and then list everything the child accomplished that day. This is not required by our state, but I like to look back at what we've learned.
I created a very simple weekly checklist in Google Docs, printed it, and laminated it. I know that my goal is for my 7 year old to be doing math 4 times per week, history 2 times per week, composer study 1 time per week, and so forth. However, I don't like to be super rigid and say we will only do history on Mondays and Wednesdays. Instead, as we complete a task from the checklist, I mark it off with a dry erase marker. If I reach the end of the week and can see that we didn't get as much science finished as we should have, I take note of that and try to make it a higher priority during the next week.
As I write this, we have completed 8 weeks of school using this routine and are currently enjoying our first break! I hope this peek inside a homeschool day was helpful.
My Previous Routine Posts:
Our Homeschool Routine with a 1st Grader, a Preschooler, and a Toddler – ages 6, 4, and 2
How to Homeschool with a Kindergartener, a Preschooler, and a Toddler – ages 5, 3, and 20 months
A New Way to Schedule: Planning Your Homeschool Day with Young Children – ages 5, 3, and 14 months
Our Homeschool Routine with a Preschooler, a Toddler, and a Baby – ages 4, 2, and 7 months
How to Homeschool with a Baby and Toddler – ages 4, 2, and baby