This post contains affiliate links, which means I might make a small commission if you make a purchase. This does not affect your cost. Thank you!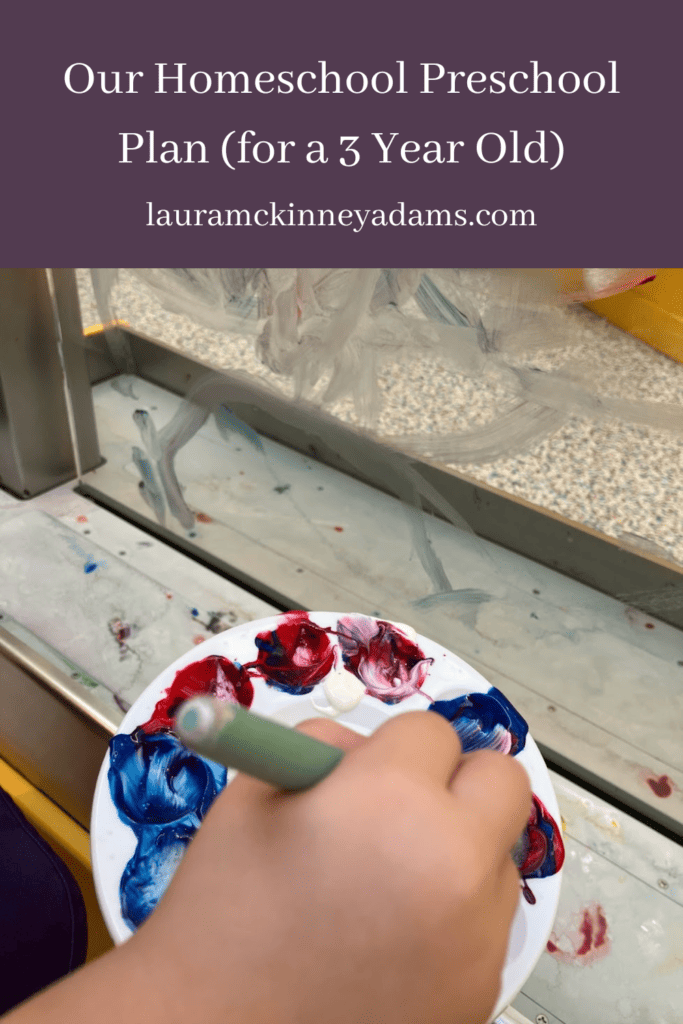 My 3 year old daughter is enjoying her first year of homeschool preschool. She loves listening to stories and doing crafts.
While my daughter is my third child, her homeschool preschool differs from her brothers' homeschool preschool. I have two elementary students who really have to be doing school work every day. It's easy to let preschool activities fall off the list, but they make her feel special and included.
Since I'm also teaching a 2nd grader and a kindergartener, I decided not to do a full blown preschool curriculum with her this year. Instead, she has her own items on my weekly homeschool checklist.
Next year, when she will be 4 years old and my boys will hopefully be a bit more independent, I plan to use Gentle + Classical Preschool.
For more of my thoughts on whether or not a preschool curriculum is necessary, see this blog post.
Bible – I have used the Awana Cubbies books with all of my children. This year she is working on the Appleseed book. She practices repeating the verse back to me until she can recite it on her own. Each section includes a cute little story about Cubbie Bear and his friends.
Numbers – One of my goals for my preschoolers is learning to count to 20. She practices this with a hundred chart. A full hundred chart is really unnecessary, but it is what her brothers use, and it makes her happy.
Letters – We are working on letter recognition this year. I bought a wooden alphabet puzzle from Walmart for my oldest several years ago and it is still going strong. This one is similar.
She dumps the letters onto the floor. As she picks each one up to return it to the puzzle, I say, "That's the letter ___!" She has picked up quite a few letter names this way. I've also caught my boys trying to work with her on her letters, which is precious.
While I work with my early elementary boys, my daughter plays with this set of Wikki Stix Alphabet Cards. It is a good fine motor activity that doesn't create much of a mess. We've had this set for 4 years and it has held up well.
My go to preschool edutainment video is Leap Frog Letter Factory. I firmly believe in the power of a well-placed 30 minute educational video. Letter Factory teaches letter identification and letter sounds.
My favorite alphabet books are Chicka Chicka Boom Boom and Dr. Seuss's ABC. Both include capital and lowercase letters.
Read Aloud – After two years of teaching preschool in a classroom and three years of teaching preschool at home, I have amassed quite the collection of picture books for preschoolers. It is on my checklist to read aloud to her as a part of "her school." I don't want reading aloud to her to get lost in the shuffle of teaching multiplication and punctuation.
She has a section of our school bookshelf for her preschool books. I usually let her choose the book of the day. Lately Curious George has been a favorite.
Tagging Along with Brothers – While my daughter doesn't formally participate in memory work time, she does like to listen to the Claritas songs with our Cross Seven membership. She also listens along with quite a bit of my kindergartener's Gentle + Classical Primer readings.
Other School Time Pursuits – My girl loves to color! I keep plenty of art supplies on hand for her to use while I work with my older kids. A friend passed down their easel to us. You can often find easels inexpensively on Facebook Marketplace.
She also loves practicing scissor skills, which often devolves into cutting a piece of paper into 764 tiny pieces. I made peace with this and decided it was the price I paid for not letting her have screen time during school. Vacuums exist for a reason.
I also let her use these alphabet stamps. Sometimes she will try to find the first initial for each member of the family, and sometimes she uses random letters. Either way, it keeps her entertained for a bit.
She's trying to learn how to use lacing cards independently, because she thinks they look like sewing, and sewing is for Big Girls, and is therefore Cool.
Activities – My kids are all participating in paid classes for homeschoolers this year. My youngest is in a preschool class with a delightful teacher. We also go to our local library once a week for a letter of the week program.
So far it has been a sweet preschool year! I hope this gives you some ideas as you plan for your littles.
If you're interested in homeschooling preschool, be sure to check out my ebook How to Homeschool Preschool!