This post contains affiliate links, which means I might make a small commission if you make a purchase. This does not affect your cost. Thank you!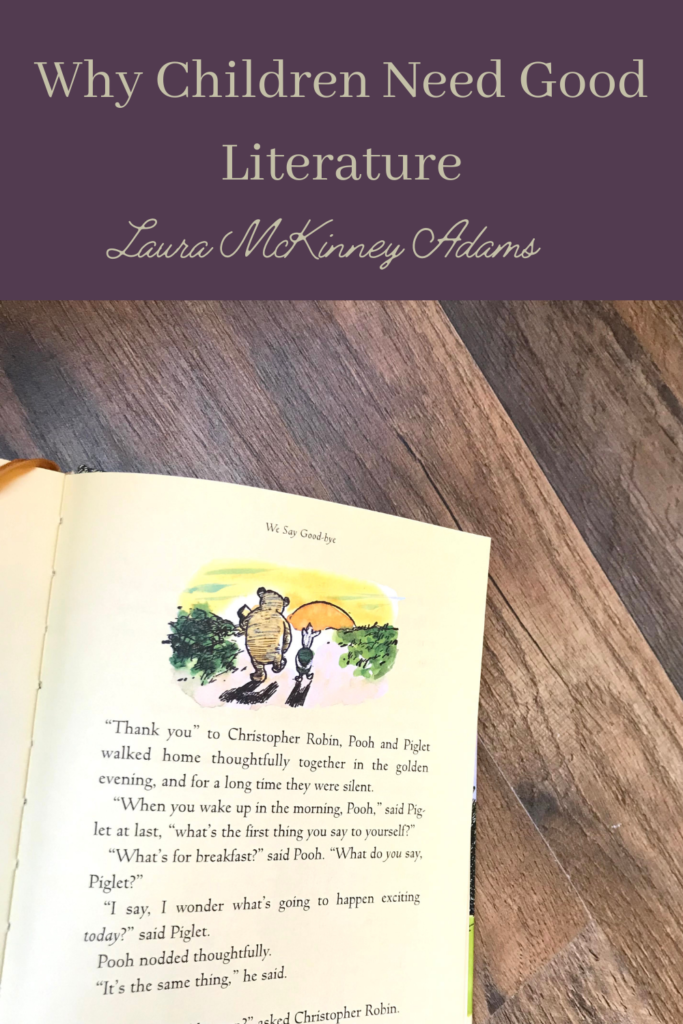 Children need good literature.
Our current read aloud is Winnie-the-Pooh by A.A. Milne. We read it before a couple years ago, but I can tell my boys are enjoying the humor more now. 
C.S. Lewis once said, "A children's story that can only be enjoyed by children is not a good children's story in the slightest," and I heartily concur. If it's painful for an adult to read, it's probably twaddle. Children know when their intelligence is being insulted. 
The classic Winnie-the-Pooh tales feature excellent syntax. They are also just hilarious. Exposing children to more advanced sentence structures aids their language development. More importantly though, the silly old bear teaches good character in a whimsical way.
With young children, we begin by showing what is good and right and virtuous. Just as bank tellers learn to recognize authentic money by handling great volumes of real currency, we learn to recognize virtue by being exposed to virtue.
In one chapter, Pooh is gluttonous and gets stuck in a tight spot as a result. In another, Pooh exhibits courage as he rescues Piglet from a flood. Pooh shows kindness to Eeyore by celebrating his birthday, even when it is nearly forgotten.
Pooh is an imperfect character, but he faces the consequences for his mistakes and exhibits growth. Part of being virtuous is making good choices in the first place, but another crucial aspect is repenting and moving forward after a wrong choice.
We will be moving on to The House at Pooh Corner next.
What are you reading this summer? Let me know in the comments!