This post contains affiliate links, which means I might make a small commission if you make a purchase. This does not affect your cost. Thank you!
I am an affiliate for Gentle + Classical Press. If you use my links to make a purchase, I'll receive a small commission. Thank you for supporting my blog!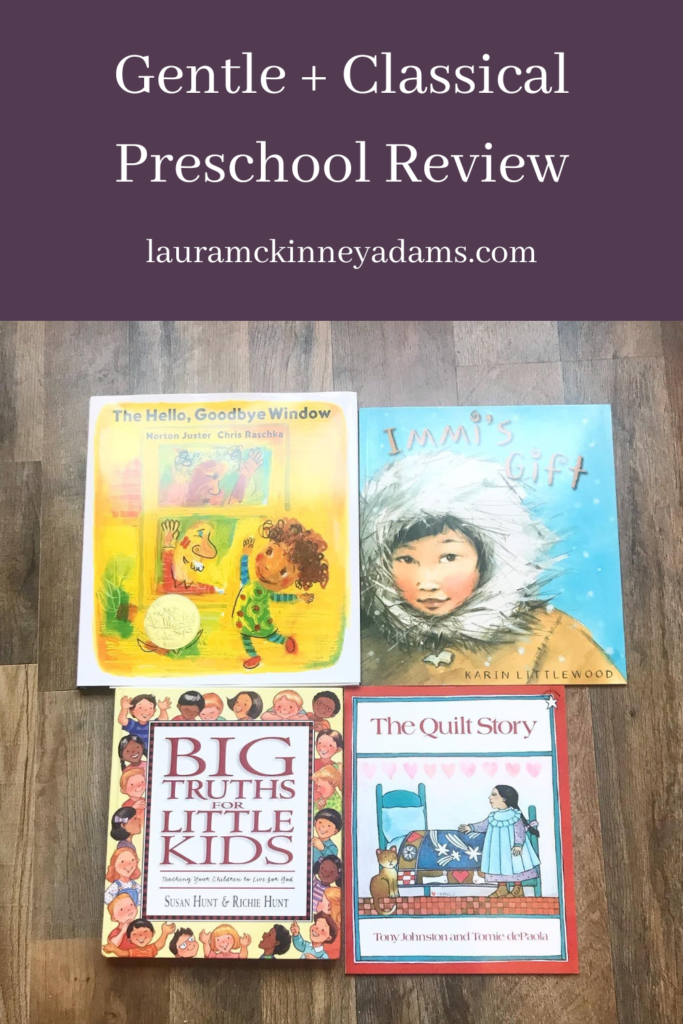 Gentle + Classical Press is one of my favorite curriculum companies, so of course I had to write a Gentle + Classical Preschool review!
My preschooler just completed his year of using Gentle + Classical Preschool. He was 3 years old when we began the program, and he turned 4 years old in February. He loves being held and read to, and he also wants to do whatever his kindergarten brother is doing. This led me to decide to do a preschool program with him. He's the type of child who makes frequent requests to "do school" because he doesn't want to be left out of any excitement.
My son is quite enthusiastic about school and learning, but I don't want to skip him ahead for various reasons. Gentle + Classical solved the issue of "what do I do with this kid?"
Gentle + Classical Preschool is composed of 26 units, one for each letter of the alphabet. There is a corresponding picture book for each week. Other components include nursery rhyme, manners and hygiene, math, artist study and music, motor skills, all about me, catechism, character, poetry, a Bible story, and a handicraft and activity.
We did not fully implement every aspect because he participated in morning basket time with his big brother. However, he enjoyed the aspects we did use.
What is the worldview?
All of the Gentle + Classical Press products are written from a nondenominational Christian perspective.
What does it include?
The teacher's guide is available as a free PDF download. The free teacher's guide does NOT include instructions for the handicrafts and activities, but it does give you a good overview of the program.
Gentle + Classical Press also sells a Preschool Bundle, which is available in print and digital formats. The Preschool Bundle includes a printed teacher's guide, the handicraft and activity guide, the art and music pack, a morning binder, memory statement cards, alphabet and number flash cards, and character statement songs.
The 26 books are NOT included in the Preschool Bundle, and need to be acquired on your own. They are fairly common picture books that should be available through your local library system. Some are classics and some are more recent releases, but all would qualify as living books.
Do I need to add anything else?
Absolutely not, in my opinion. It covers everything a preschooler could possibly need. If anything, drop a couple components if you're feeling overwhelmed! It's a "spreading the feast" situation, to use the Charlotte Mason term.
If your preschooler is ready to start writing, there are many tracing activities in the morning binder. If your preschooler is not ready for that yet, it can be easily omitted. Use your discretion.
What philosophy of education does it espouse?
Despite the word classical in the name, I think the Gentle + Classical Preschool evokes a Charlotte Mason feel. I'd say it's a mix of classical and Charlotte Mason. A family who uses Classical Conversations with their older children would enjoy using this with their younger children.
How much preparation does it require? Is it open and go?
I found it pretty open and go. On Sunday afternoons, I would switch out my morning basket materials for the week. That was it for prep work.
I do think it would be wise to familiarize yourself with an introduction to Charlotte Mason's work, such as For the Children's Sake, before beginning the program.
All of the readings and activities for the week are laid out on a single page in the teacher's guide. It's straightforward to use.
Can you use it with multiple children? What is the age range?
You certainly could. My preschooler was the official GCP user in my household, but my kindergartener enjoyed listening to the songs and stories as well.
It's marketed to 2-4 year olds, but my personal opinion is that it's a bit much for a 2 year old. I'd hold off until your child turns 3.
How much does it cost?
The cost varies based on whether you buy the print or digital version of the Preschool Bundle and whether or not you need to purchase the books. I already owned most of the books, so my costs there were minimal. I opted not to purchase the Preschool Bundle either, though I think it would be helpful for many families. If you are on a tight budget and can only buy one item, I would go for the Art + Music Pack. It's so helpful to have a copy of the art selections for your child to admire.
What if my child already knows his letters and numbers?
They can still glean from the program! My middle son is a quick memorizer and already knew his letters and numbers before he began Gentle + Classical Preschool, but he learned about the Bible and character traits, motor skills/life skills, and poetry. One of the things I love about Gentle + Classical Preschool is that there is so much more to it than just letters and numbers. It's really about feeding the child's soul.
Would you recommend it?
Yes! While you can cobble together a preschool program on your own, using a prefab one such as Gentle + Classical can save you time and effort. In addition to preschool at home with my middle child, I also juggled a kindergartener and a toddler. The convenience of having my son's preschool work for the week all laid out for me on one page made my life easier.
I saved my materials and plan to use Gentle + Classical Preschool again when my daughter is ready!