This post contains affiliate links, which means I might make a small commission if you make a purchase. This does not affect your cost. Thank you!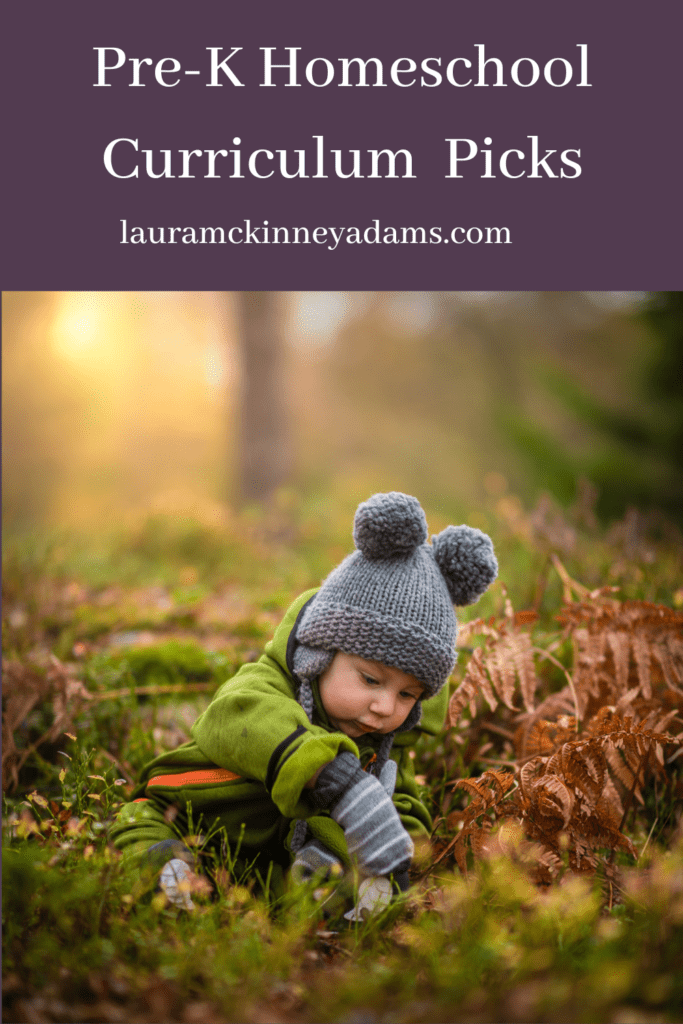 A mom reached out to me over social media and asked what I had done for preschool with my 4 year olds. I realized that I wrote a blog post about what I did for my oldest child's 4 year old preschool year, but not about what I did for my second child.
My second child is a 4 year old boy with a winter birthday. My other kids have spring birthdays, so they're younger for their grades than he is. He is extroverted, energetic, and enthusiastic.
The Original Plan
I really like the Get Ready, Get Set, Go for the Code series for a gentle introduction to workbooks. They cover the letters of the alphabet and their sounds. Both of my boys knew their letters and sounds before beginning pre-K, so they could just focus on pencil control and learning to trace and circle the answers. Susan Wise Bauer says to only expect your child to do one hard thing at a time, and the principle seems to be working well in our household.
In like manner, Saxon K is a gentle introduction to math lessons. All of the lessons are brief, and none of them require any handwriting.
I also purchased a name tracing workbook from Amazon. I like for my kids to learn how to write their first names in pre-K. If your child will attend kindergarten in a classroom setting, this is particularly important.
For Bible, I pulled out my trusty Awana Cubbies book to guide us through Scripture memory.
That was all. Or so I thought.
The Pivot
I should have known I was in trouble when I came home from the Thrive conference in May, presented my 6 year old with his new curriculum, and found myself with a despondent 4 year old.
"Where is MY school?"
Fortunately, we live near a homeschool store, so we were able to get his Get Ready, Get Set, and Go for the Code books soon after this.
"See? This is your school. Your brother did these when he was 4."
Around this same time, I purchased some early reader books for my oldest and discovered that my 4 year old could also read them. I had not taught him how to do that. He just…did. I did the exact same thing when I was 4, and then later realized that that wasn't typical. I didn't have that expectation for my own kids. Yet, here we were.
But it was summer! So we went to the pool and traveled and enjoyed general merriment.
I mostly held him off on starting curriculum until we started the school year as a family. However, he blew through the workbooks quickly.
I found myself at the end of September with mostly finished books and a lot of school year left to fill. I bought a set of preschool books from Rod and Staff. He also used those at a rapid rate.
My next idea was to unschool him for the rest of the year. It would be fun, I thought! He could just relax and play, I thought!
My son thought that was about the worst idea he had ever heard in his life. He had done everything with his brother for his whole life, and if big brother was doing big boy school then by jove, little brother wanted big boy school.
We hemmed and hawed. He wanted more school. I tried in vain to explain that 1st grade takes more time per day than preschool and that it's not anything personal. I pulled my toddler daughter out of various forms of mischief and called out spelling words to my oldest and felt generally overwhelmed.
By Thanksgiving, I accepted defeat. I loaded everybody into the van. We drove to our local homeschool store. I chose materials with my precious, precocious son.
And he felt loved.
And that was what mattered.
The Revised Plan
He's more or less doing kindergarten work now, but I continue to keep him with his age group in social settings, and I continue to call him a preschooler.
He is doing Saxon 1 for math and A Reason for Handwriting K for handwriting. I am making him do phonics despite his reading level, because it's helpful for learning spelling later. We are testing a phonics program that is in development.
We found an old edition of Exploring Creation with Botany in the free bin, so we've read from that as the mood strikes. He loves plants and gardening. We are also continuing on with the Awana Cubbies book for Bible memory.
His current life goals include "being a book writer" and "having chickens." The chickens aren't happening, but he's started a series of short stories about an elephant. I take dictation and write them down for him.
The Conclusion
My idea of what pre-K should look like did not match what my child actually needed. I still believe that most children do not need heavy academics at 4. But this child truly did need it, and our relationship improved once I accepted that.
Now I've done pre-K two ways. Watch this space in 2024 to see if my daughter adds a third way to my repertoire!