This post contains affiliate links, which means I might make a small commission if you make a purchase. This does not affect your cost. Thank you!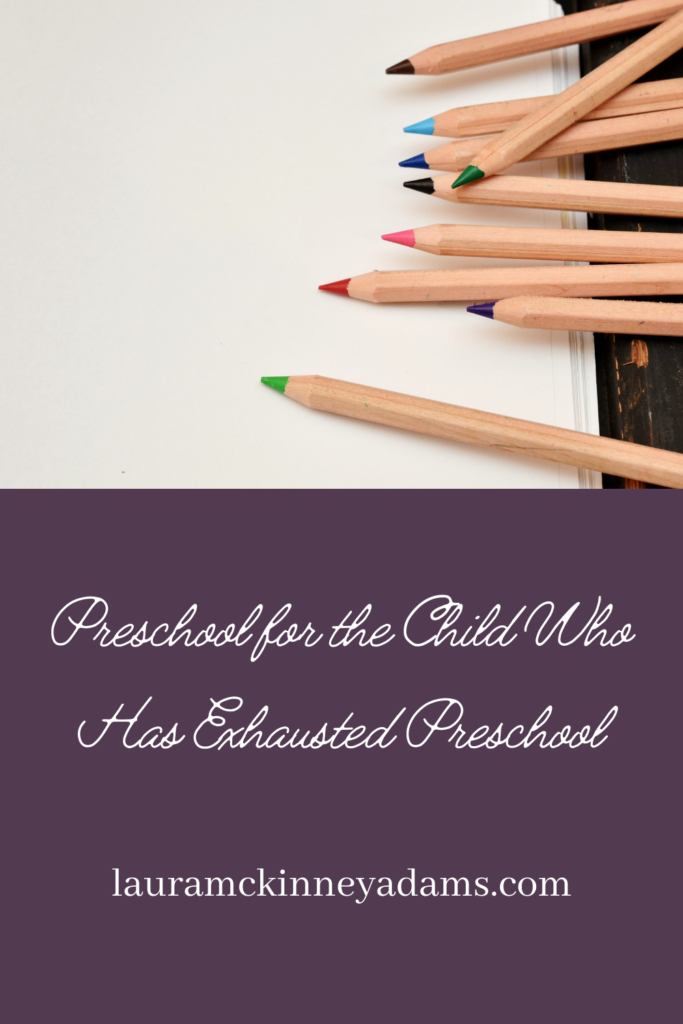 I occasionally hear parents discuss what to do with their children who have acquired the traditional kindergarten readiness skills, but are not yet old enough for kindergarten. I thought I would share how I'm addressing this advanced preschool situation in our homeschool, in the hopes that it will give you some ideas for yours!
My second child is four years old and will enter his pre-K year in the fall. He's 22 months younger than my oldest son, and they are inseparable. My second wants to do everything that my first does. Consequently, he wants to do school work.
This particular child loves quality time and being held, so giving him some things that are "his school" fills his love tank. For his 3 year old preschool year, I loosely implemented Gentle + Classical Preschool.
Before beginning kindergarten, I like for my children to have the following skills:
Writing their first name
Identifying all of their letters, both capital and lowercase
Letter sounds
Counting to 20
Staying quiet and attentive long enough to listen to a chapter of the Bible
My son already knows his letter names, letter sounds, how to count to 20, and how to listen quietly to a story. He does not yet know how to write his name, so that will be our main goal for the year.
I do not place a heavy emphasis on writing before kindergarten. If there is interest and inclination, I begin working on letter formation. To me, making sure the fine motor skills are there and that they are able to grip a pencil correctly is more important than knowing how to form all of the letters before kindergarten. A child who is able to hold a pencil correctly and who can identify all of his letters will be able to pick up letter formation quickly later.
I purchased a workbook for him to use for tracing and writing his name. Alternatively, there are websites where you could make worksheets yourself. The convenience of the pre-printed workbook was worth it for me.
We will also begin Saxon K. My oldest also did Saxon K when he was 4, and it was a gentle introduction to math lessons. I still have all of the materials and I think my second son will enjoy playing with the math manipulatives with me. Saxon K requires no written output, which is my preference for children this young.
Since my son knows his letters well already, we won't spend much energy on phonics yet. He isn't quite developmentally ready to blend sounds together into words. Some advanced preschool kids memorize things quite easily, but that doesn't mean they can handle blending yet. I'll evaluate his progress on that every few months.
I plan to read aloud books from Ambleside Online's Year 0 list. We have almost all of them on hand already. The list particularly emphasizes A.A. Milne and Beatrix Potter. He already loves A.A. Milne, so I'm hoping he'll love the other authors on the list as well.
He will participate in morning time with his brother, who will be in 1st grade. That will cover Bible and the feast: picture study, composer study, poetry, and family read aloud time.
We're looking forward to a sweet year together.
February 2023 Update: The advanced preschool year did not go as planned. By December 2022, it became apparent that he needed to move onto kindergarten work. I wrote about what we did to pivot here. I have left this post as it was because I want you to know that even bloggers and podcasters and other people on the internet have things that don't work and need to be changed. You are never alone.