This post contains affiliate links, which means I might make a small commission if you make a purchase. This does not affect your cost. Thank you!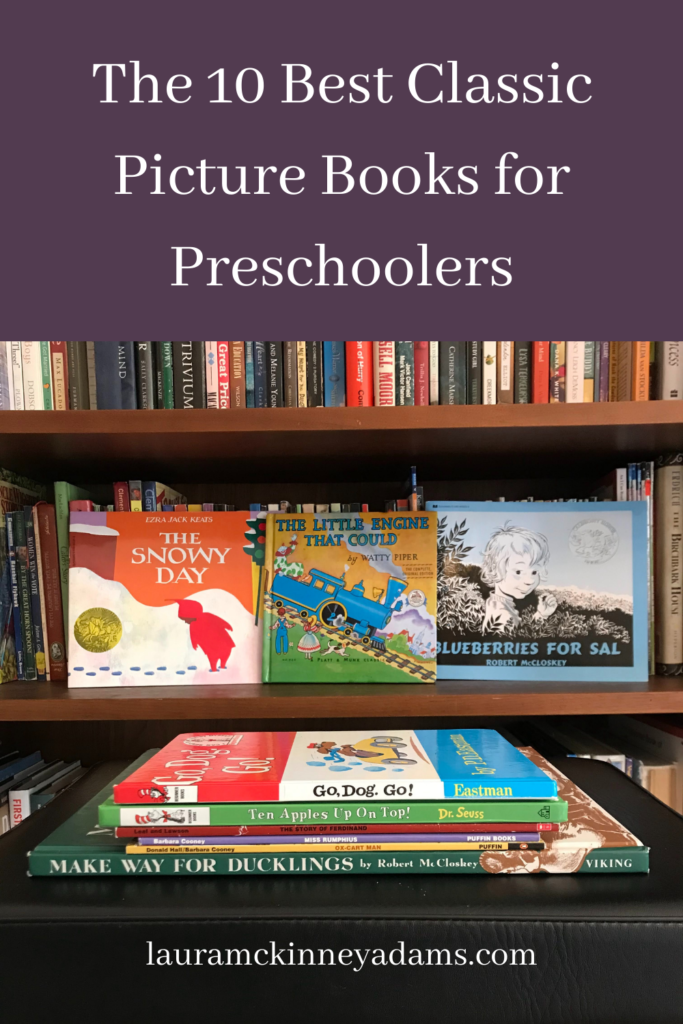 We've read a lot of classic picture books in the past few years, and I'd like to share some of our favorites with you. Keep in mind that my daughter hasn't entered the preschool years yet, so our list might skew towards books that are a bit more interesting to boys. 
Make Way for Ducklings by Robert McCloskey – My all time favorite children's author. The illustrations are old-fashioned, but the story is sweet. Originally published in 1941, the universal themes of protective parents and honorable helpers still resonate today.
The Story of Ferdinand by Munro Leaf – Both of my boys think Ferdinand is hilarious. He is a bull who just wants to live in peace and smell his flowers. When he's forced to behave as a "normal" bull, chaos ensues. There is a short film adaptation available to stream on Disney+. It's quite faithful to the original.
The Little Engine that Could by Watty Piper – Both of my boys love trains. The repetitious language in Piper's tale is engaging and enjoyable for young listeners. The story shows the value of perseverance without being preachy or obnoxious.
The Snowy Day by Ezra Jack Keats – This was my oldest's favorite book for a while when he was 2. The plot is simple – a little boy enjoys some time in the snow – but charming and heartwarming. For the reading aloud grown up, it's a reminder to embrace the little things in life.
Ox-Cart Man by Donald Hall – Set in the 1830s, Ox-Cart Man is the story of a farming family who works hard all year so they will have things to trade for necessary supplies. It presents a good opportunity to discuss how differently people lived in other eras. It also presents food for thought about where our belongings originate and how they get from the manufacturer to our homes.
Miss Rumphius by Barbara Cooney – If ever a book embodied the pursuit of beauty, Miss Rumphius would be that book. The illustrations are gorgeous. The plot is sweet. The title character's goal in life is to make the world more beautiful. Along the way, she has intriguing adventures and meets interesting characters. A classic.
A New Coat for Anna by Harriet Ziefert – In the same vein as Ox-Cart Man, this story discusses the process of making a coat. In the aftermath of World War II, times are tough for Anna and her mother. Yet, her mother is resourceful and finds a way to barter and swap and work her way to the coat her daughter needs.
Ten Apples Up on Top by Dr. Seuss – My personal favorite Dr. Seuss book. I used to read it to my preschool classes in September. For a group of 4 year olds, it checks multiple boxes – reviewing how to count to 10, and discussion of a seasonal fruit. It's also humorous. My boys both love it!
Go Dog Go by P.D. Eastman – My oldest had a major Go Dog Go phase when he was about 3 years old. We're getting ready to pull it out again for reading practice. It entertains me as an adult, which makes it a winner in my book (pun unintended).
Blueberries for Sal by Robert McCloskey – "Ku-plink, ku-plank, ku-plunk" – My mom read this to me when I was young, and I felt delighted when my sons enjoyed it just as much as I did. Even my almost-two year old got into it. The title character does get lost and bears are involved. No one gets hurt, but you may wish to preview before reading to sensitive listeners. For added fun, buy some blueberries and have your preschooler snack on them while you read.
I hope this list gets you started! Leave a comment below with your preschooler's favorite stories.