This post contains affiliate links, which means I might make a small commission if you make a purchase. This does not affect your cost. Thank you!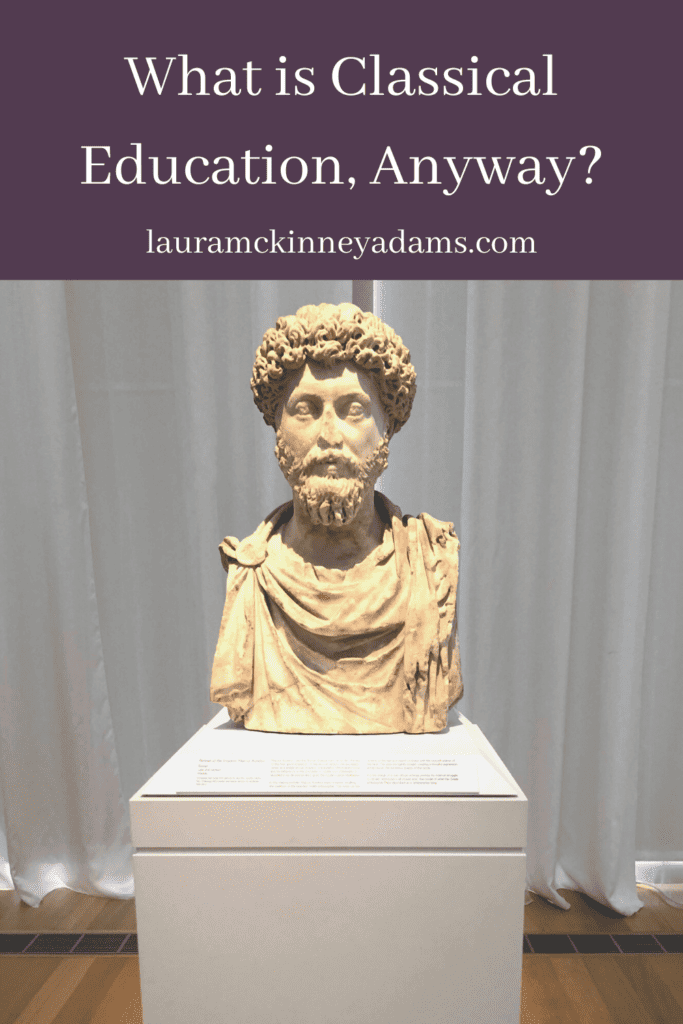 The Christian classical education movement has ballooned over the past three decades. But what is classical education, anyway?
Classical education is difficult to define, in part because the term is used in so many circles. There are three primary classical circles: the Latin-centered, the history-centered, and the literature-centered.
Latin-Centered Classical Education
The Latin-Centered version of classical education is most notably promoted by Memoria Press, which is a company that sells curriculum for homeschoolers and for cottage schools. A cottage school is somewhere in between a private school and a co-op. The students convene as infrequently as once a week or as often as four times a week, depending on the school.
Latin was a foundational component of Western civilization's development. The fundamental belief is that Latin is an orderly language, and that studying it aids the student in his vocabulary and his grammar. Furthermore, learning Latin takes focus and hard work: skills that will be useful for any pursuit in the student's life.
Further Reading on the Latin-Centered Method:
Book: The Latin-Centered Curriculum: A Home Educator's Guide to a Classical Education by Andrew A. Campbell
Article: Latin is Not Optional by Cheryl Lowe
History-Centered Classical Education
The history-centered edition of classical education has been popularized by the book The Well-Trained Mind by Susan Wise Bauer and Jessie Wise, as well as by the organization Classical Conversations. The Well-Trained Mind is a guide for implementing this method at home with a single family. Classical Conversations consists of a group of families meeting once per week.
The hallmark is studying history chronologically and in cycles. Susan Wise Bauer suggests a four year history cycle, to be repeated three times by the time the student graduates. Classical Conversations does a three year history cycle, which is repeated twice during the elementary years. 
Proponents of the history-centered method often discuss the Trivium, which is an idea taken from Dorothy Sayers' essay "The Lost Tools of Learning." Sayers first presented it as a speech at Oxford in 1947, as a part of a conference on education. Best known for her fiction work, she was a contemporary and friend of C.S. Lewis. She wrote numerous detective novels.
In her speech, she called out the schools of her day and time for failing to teach critical thinking skills and leaving their students easy prey for propagandists.
My classical homeschool is closest to this method.
Further Reading on the History-Centered Method:
Books:
The Well-Trained Mind by Susan Wise Bauer and Jessie Wise
The Core by Leigh Bortins
The Question by Leigh Bortins
The Conversation by Leigh Bortins
Essay:
"The Lost Tools of Learning" by Dorothy Sayers
Article:
What is Classical Education? by Susan Wise Bauer
Literature-Centered Classical Education
At first brush, the literature-centered form of classical education might not seem classical at all. I first became exposed to the concept when I was researching Ambleside Online, which is an open source curriculum often used by larger families. Karen Glass is an advisor for Ambleside Online. She has written several books on education, one of which focuses specifically on the relationship between Charlotte Mason education and classical education.
Since my children are early elementary aged and younger, my focus is on teaching the younger grades. In those years, classical education is distinct from Charlotte Mason in two primary ways:
Language arts instruction – Classical education typically involves direct grammar instruction, while Charlotte Mason education claims that simply exposing children to quality writing through reading good literature and doing copywork is enough. With the classical model, language arts is learned through a parts to whole framework. With the Charlotte Mason model, language arts is a whole to parts system.
Focus of memory work – Charlotte Mason students focus on memorizing idea based content (poetry, etc.) while classical students focus on memorizing facts (historical facts, scientific facts, etc.)
Further Information on the Literature-Centered Method:
Book:
Consider This by Karen Glass
Podcasts:
Schole Sisters – The ladies from Schole Sisters have several episodes regarding Dorothy Sayers.
Episode #49 – Dorothy Sayers' Insights – A discussion of the "Lost Tools of Learning" essay and what Sayers did and did not mean by it in the context of her time.
Episode #54 – Gainsaying Sayers – This discussion focuses on the concept of the trivium and how valid or invalid it might be.
Episode #60 – History as a Center Cannot Hold – Guest Angelina Stanford posits that planning all of one's literature selections around one's history studies is a mistake and explains why. I rarely listen to podcast episodes twice, but I've listened to this one twice.
The Literary Life Podcast – This is about classic literature and is not homeschooling specific, but two of the three hosts have experience as homeschooling mothers, and their ideas about education come through in the podcast. I recommend the following episodes:
Episode #57 – On Fairy Stories by J.R.R. Tolkien – A defense and support of reading fairy tales, even (and especially) the disturbing ones.
Episode #60 – Why Read Pagan Myths – Any classical model assigns ancient stories to students, many of which are pagan. Is this defensible from a Christian perspective? The Literary Life hosts explain why pagan myths have value.
Episode #80 – Why Read Old Books – More generally, this episode explains why students should go to the effort of learning to read books with archaic language.
What is Truly Classical?
Any modern implementation of the classical approach is going to deviate from how things were done in centuries past. As Susan Wise Bauer observed, educating girls at all was not practiced at all by the ancients. As you make decisions, consider what is most important to your family and to your specific children. Don't get caught up in being "perfectly classical." If you are faithful and consistent in educating your children, they will be just fine.