This post contains affiliate links, which means I might make a small commission if you make a purchase. This does not affect your cost. Thank you!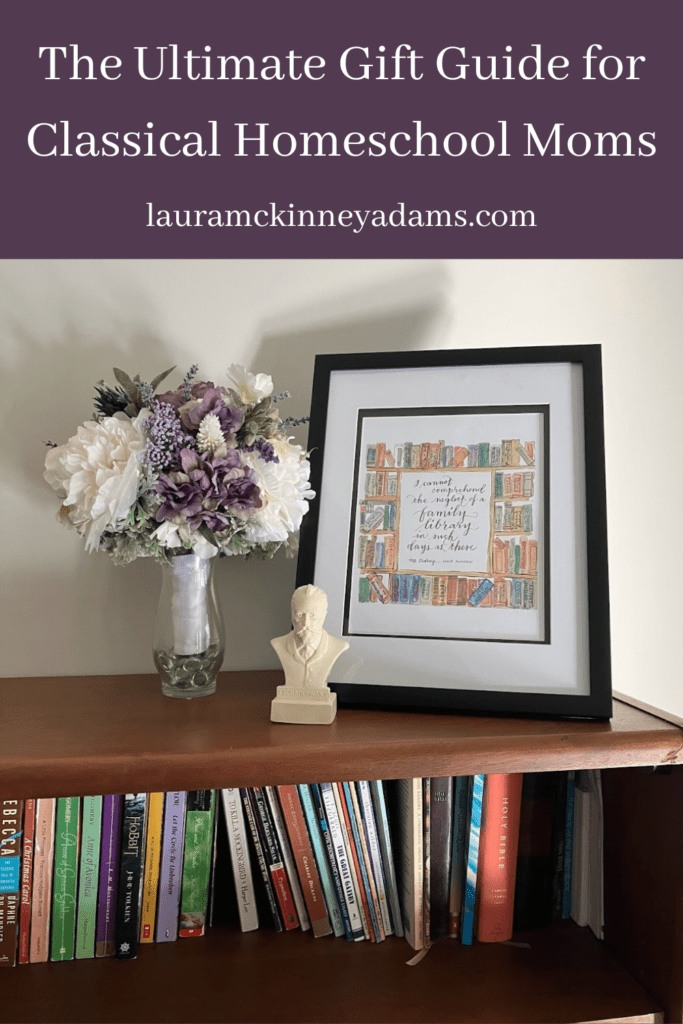 Christmas is coming, and sometimes husbands appreciate some gift ideas, so I developed the ultimate gift guide for classical moms!
Practical Gifts:
Coffee – For obvious reasons. Caffeine is essential.
And perhaps a cute coffee mug to go with it. These bookish ones from A Fine Quotation are just right for the literary mom, and purchasing one supports a homeschool family.
In the less tangible realm, how about some time alone? We love our children, but every mom needs a break sometimes.
She'll be the cutest mom at co-op in this Home Librarian t-shirt.
Encouraging Gifts:
If the classical homeschool mom in your life needs some encouragement, Teaching from Rest by Sarah Mackenzie will feel like a breath of fresh air. It's brief, meaningful, and accessible.
Humorous Gifts:
The Ides of March Pencil Holder – This amuses me to no end.
Literary Themed Tea – Agatha ChrisTEA, anyone?
Fun Gifts:
These stickers from Classically Chels look fabulous on any homeschool planner. I am partial to the "Truth Goodness Beauty" design.
I have this watercolor print hanging above my school bookshelf. Grace Under Pressure is another great small business to support.
Homeschool moms are often at home, so why not make her living space a bit more beautiful? This classic art print is gorgeous!
Have a blessed Christmas season!