This post contains affiliate links, which means I might make a small commission if you make a purchase. This does not affect your cost. Thank you!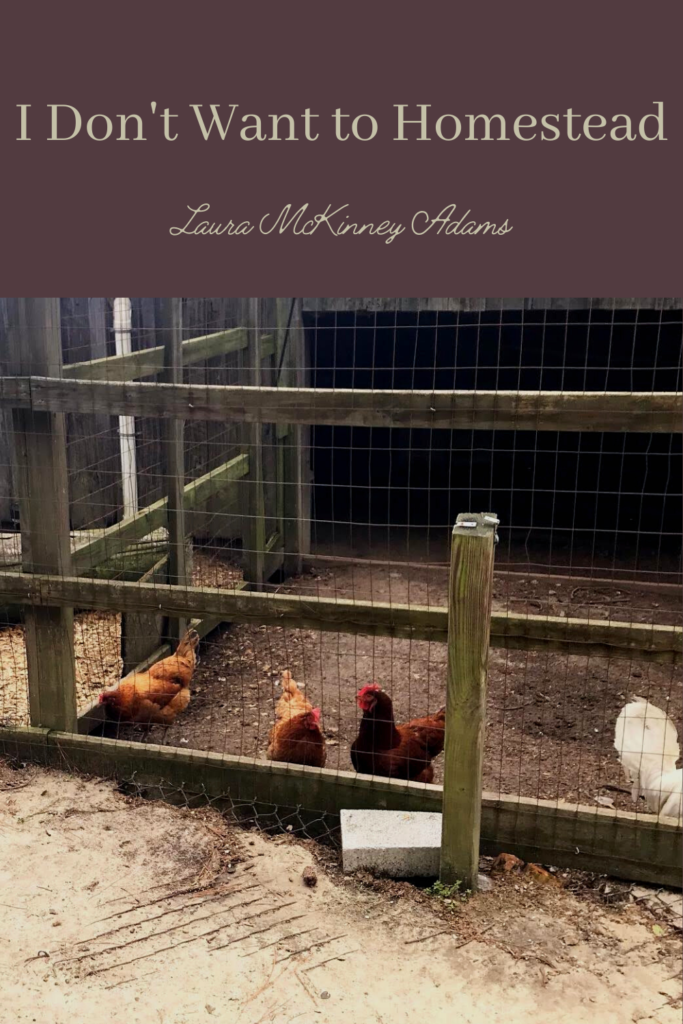 Sometimes I wonder if there is something wrong with me. Why, you might ask? Because I don't want to homestead. Not one little bit. But I do want to homeschool. In fact, I already do homeschool, and I simply adore it. When it comes to discussing philosophies of education, selecting curriculum, or even just commiserating about the hard and good work we're doing, I'm your girl. I'll tell you all about my own experience as a homeschooled child, and assure you that yes, your child can go to college and get a job someday, and no, you aren't going to ruin him. 
But when we get to homesteading and having a slow life in the country? That is when I awkwardly retreat from the conversation. In this house, we don't have so much as a fish. Why would I want chickens? They are so educational, they say. They build character, they say. I think keeping my grass in line with HOA standards builds my character well enough.
I say I don't want my children to cave to peer pressure, yet I've realized that the impulse to conform doesn't go away as an adult. A lot of us have a mental picture of the ideal mom. She might be someone we actually know, but more often she's a composite image, cobbled together from bits and bytes on the internet. We'll call my composite Cordelia.
Cordelia's five to seven angelic children are always smiling and looking at the camera for family portraits all at the same time. They raise chickens, and goats, and goodness knows what else. Cordelia sews linen dresses. They live on a little homestead, nestled in a valley somewhere, and they all run a family business. It's quite idyllic.
In contrast, my house rests at the edge of city limits, right where the transition to the rural South begins. I've spent my entire married life in cities, and I'll likely be in my current city for the rest of my days. I only have three kids, and getting them to all smile and look at the camera at the same time appears to be an unattainable feat. (Are these Instagram moms using photoshop? Someone help me out here.)
I am desperately, hopelessly nerdy. I love digging into old books, deep books, books full of big ideas. I'm four cantos into Dante's Inferno. My own ideas bubble up in my head, threatening to spill over, so I frantically record as many of them as I can when the opportunity presents itself. I enjoy trying out new writing prompts, twisting and turning the idea and figuring out what best fits. Last week I wrote 400 words about a black blazer. I wrote my own kindergarten enrichment program for my son, just for the joy of it.
Am I a real writer? I don't know, but I'm learning to be a real person.
Too often, I've tried to conform my personality to the image of Cordelia, when I was actually called to conform myself to the image of Jesus. And God has equipped us with different skills. I can celebrate the strengths of others and also embrace my own gifts. My administrative skills get things done. My friend's love of nature led her to start a Wild + Free group, which keeps me accountable to get my kids outside and exploring. All of the moms in our group bring value to the table. That's the beauty of community.
My children never eat sourdough bread, but somehow, I think they're going to be just fine.
This post is part of a blog hop with Exhale—an online community of women pursuing creativity alongside motherhood, led by the writing team behind Coffee + Crumbs. Click here to view the next post in the series "True".