This post contains affiliate links, which means I might make a small commission if you make a purchase. This does not affect your cost. Thank you!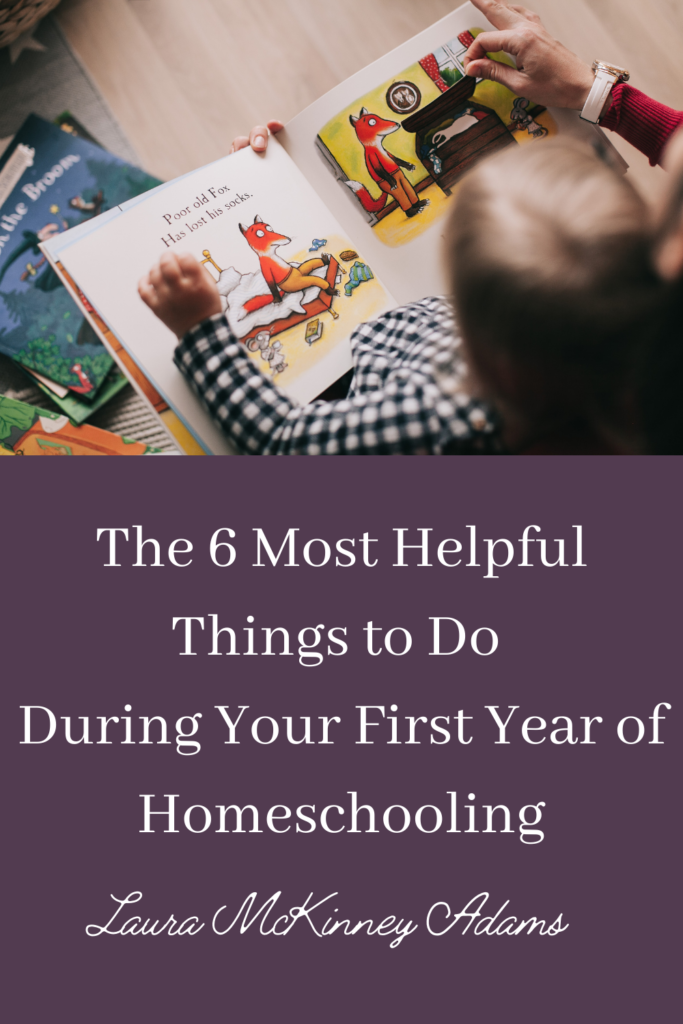 I just completed my first year of homeschooling. I taught a kindergartener, a preschooler, and a toddler. While the year had its challenging moments, here are 6 things I recommend that really helped me along the way:
Get plugged into a local homeschool support group.
There is a difference between a support group and a co-op, though many people do feel a sense of support from their co-op. Support groups focus more on social activities and on equipping and encouraging parents. Mine hosts an annual field day, a high school graduation, numerous clubs and extracurricular activities, parent meetings, and more. It does not host academic classes. The relationships I've built through our support group have been invaluable.
To find a local homeschool support group, Google your city's name + homeschool group. Alternatively, you can look for Facebook groups based in your local area and ask the members for their recommendations. In my state, North Carolinians for Home Education has regional liaisons who help new homeschoolers find a local group.
Read Teaching from Rest by Sarah Mackenzie
I stumbled into reading this book. My local support group offered a three session mom's book club on Teaching from Rest in September of my son's kindergarten year. I signed up because I knew a couple of the other moms who were involved and thought it would be fun to spend time with them and listen to their ideas. Teaching from Rest turned out to be transformative for my approach to teaching and parenting.
At its core, Teaching from Rest posits that it's possible to teach both rigorously and restfully. I'm tempted to worry and consequently overwork my kids. It reminded me that it's entirely possible to give a young child a quality, through education, while also allowing them plenty of time for play and leisure.
Ask more experienced moms questions!
My mother and my mother-in-law each have 20+ years of homeschooling experience. Many of the moms in my local support group are also very experienced. All of them are happy to share their thoughts with me when I ask. I've asked them about curriculum, housekeeping, scheduling, managing littles, and more.
My mother-in-law had similar age gaps between her first three kids as I do between my three kids. She once told me that she thought the toughest years of homeschooling were when she had a 1 year old and a kindergartener at the same time. When I found that stage to be challenging myself, I remembered her comment and took heart that this too shall pass! And I must say, things are definitely getting easier as my daughter approaches her 2nd birthday.
Learn how to pivot.
You will make mistakes. I made miscalculations my first year. I purchased a handwriting book that I really liked, but that frustrated my son to no end. He just wasn't ready for it at the beginning of the school year. I put it away and used various other handwriting sheets with him for about six months. When I reintroduced the original handwriting book, he thrived with it. His confidence grew enough for him to conquer the material. We aren't going to be finished with the handwriting book by the end of the school year, but we will just pick up where we left off next year. Meeting his needs is more important than staying inside the confines of the box.
Pursue your children's interests.
My firstborn is outdoorsy and loves attending programs at our local parks and nature preserves. My second child developed a fascination with plants this year. I am NOT naturally outdoorsy, and I even write blog posts about how I don't want to homestead. However, it's important to me to cultivate my children's unique personalities and interests, so we've explored outdoor locations all over our county and I have a tiny container garden on my back porch right now. Each child is unique and has strengths! It's a privilege to help them discover their giftings.
Trust your judgment.
Our first year of unofficial homeschooling was 2020-2021. My oldest was 4 years old. I had spent the previous two years teaching other people's 4 year olds at a church preschool, so I felt pretty comfortable with 4 year old preschool material.
Kindergarten was a whole different story. I worried I would ruin my kids. I worried that I wouldn't be doing enough. I worried I would be too pushy and alienate my son from his love of learning. I worried about everything.
…it was fine.
At the end of the day, you have to trust that you love your child and you want what's best for them. As long as you're consistent with them, they'll get where they need to be.
What was helpful for you during your first year of homeschooling? Leave me a comment and let me know!