This post contains affiliate links, which means I might make a small commission if you make a purchase. This does not affect your cost. Thank you!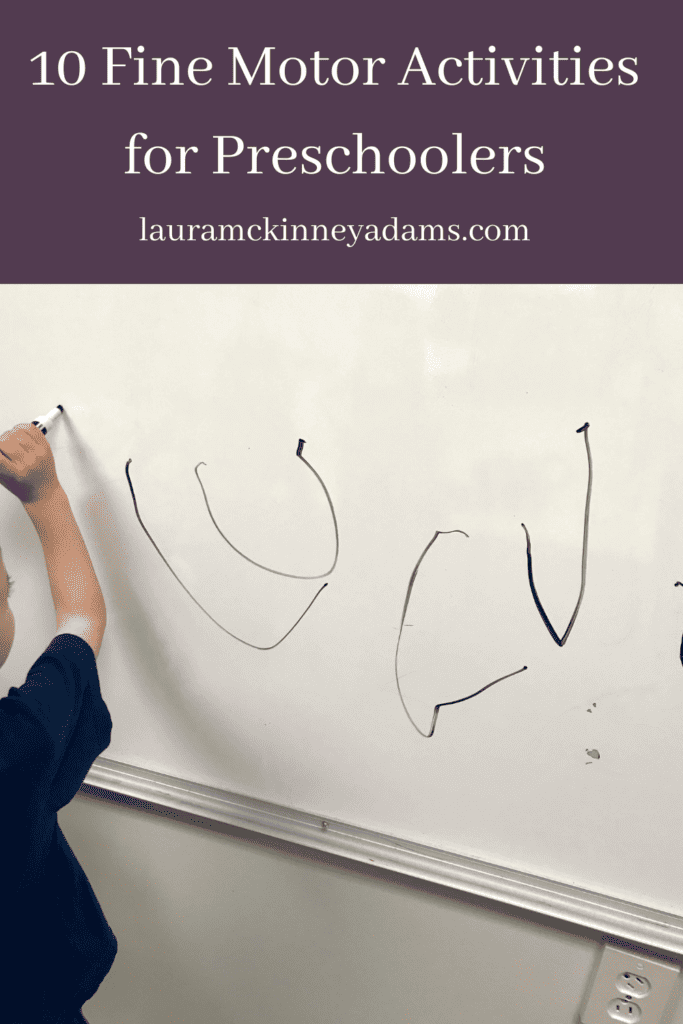 I taught preschool in a classroom setting for two years, and I've been teaching it in a homeschool setting for three years. Consequently, I've collected a tool box of fine motor activities for preschoolers. Here are some of my favorites!
Wikki Stix Alphabet Cards – Wikki Stix are wax-coated pieces of yarn. The cards included with this set are made of glossy cardstock. Children can outline the letters with the Wikki Stix. My son enjoyed this activity when he was 3. Since the Wikki Stix are thin, picking them up and putting them in place exercises fine motor skills.
Crayon Rocks – These are expensive, but they work! They're shaped in a way that forces the child to use the tripod grip. I've seen kids make tremendous progress after using crayon rocks for a while.
Broken crayons – The more budget-friendly alternative to crayon rocks: break standard crayons in half. The shorter length encourages proper grip.
Legos – I reserve these for when younger siblings are napping due to the choking hazard they present, but Legos are great for creativity as well as fine motor skills.
Play Dough – Make shapes! Show your child how to make snakes, balls, etc. Make the first letter of their name. The possibilities are endless!
Trace in a novel material – Spray some shaving cream in a plastic bin or somewhere outside. Have your child trace the shapes of letters with his index finger. Alternatively, you can set up a sensory bin with a simple plastic bin from Walmart and some rice. Many kids like the sensation of tracing shapes or letters in the rice.
Short pencils – Susan Wise Bauer, author of The Well-Trained Mind, suggests using short golf pencils, rather than fat preschool pencils. Having tried both, I agree with her assessment. You want to purchase the Ticonderoga brand. Trust me. Other brands of pencils are subpar.
Dry erase markers – Once your child is capable of using the tripod grip, give him ample opportunity to practice it. My son enjoyed this dry erase book featuring his favorite character, Lightning McQueen.
Tweezers and pompoms – I purchased a pair of large plastic tweezers from the education section at Dollar Tree. They also sell pompoms in their craft section. I showed my son how to grab pompoms with the tweezers and then drop them into a container. He found this highly entertaining.
Q tips on a dry erase board – When I taught in a classroom setting, I had access to a large white board. When I had extra time with my preschoolers, I would write out letters of the alphabet on the board. Then I handed out Q tips. Each child took a turn erasing a letter with their Q tip. Because Q tips are so thin, they were forced to use the correct grip to erase the letters.
I hope these help you as you teach your little ones!