This post contains affiliate links, which means I might make a small commission if you make a purchase. This does not affect your cost. Thank you!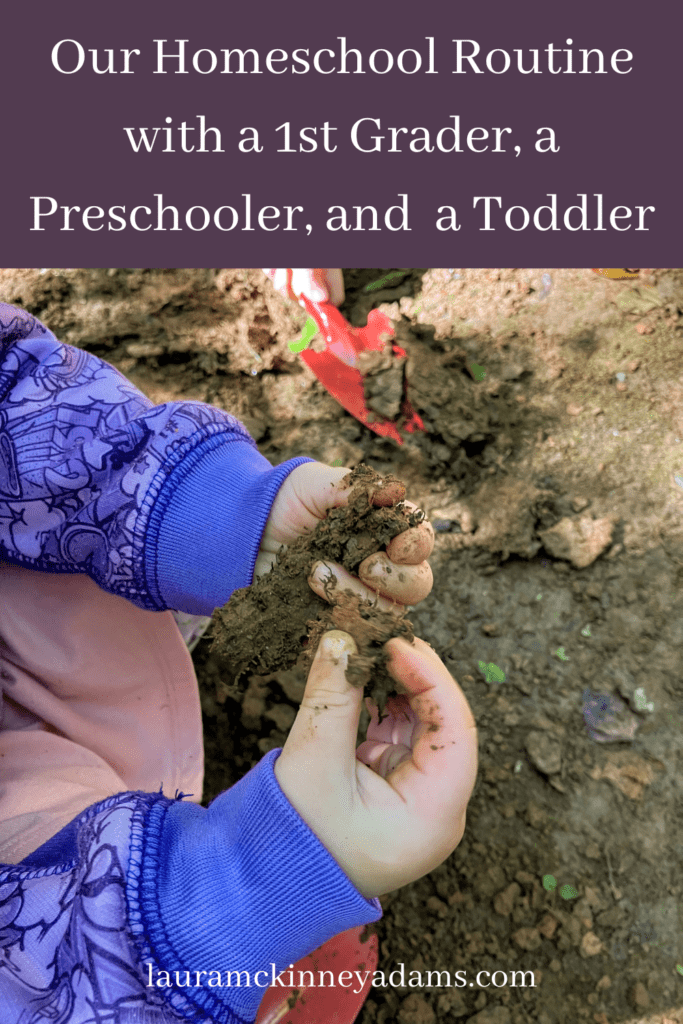 I write homeschool routine posts about once a year. At the time of this writing, I have a 1st grade boy, a preschool boy, and a 2 year old girl. They are all home with me full time. I've noticed that there is a particular interest in making a homeschool routine with a toddler, so here we are!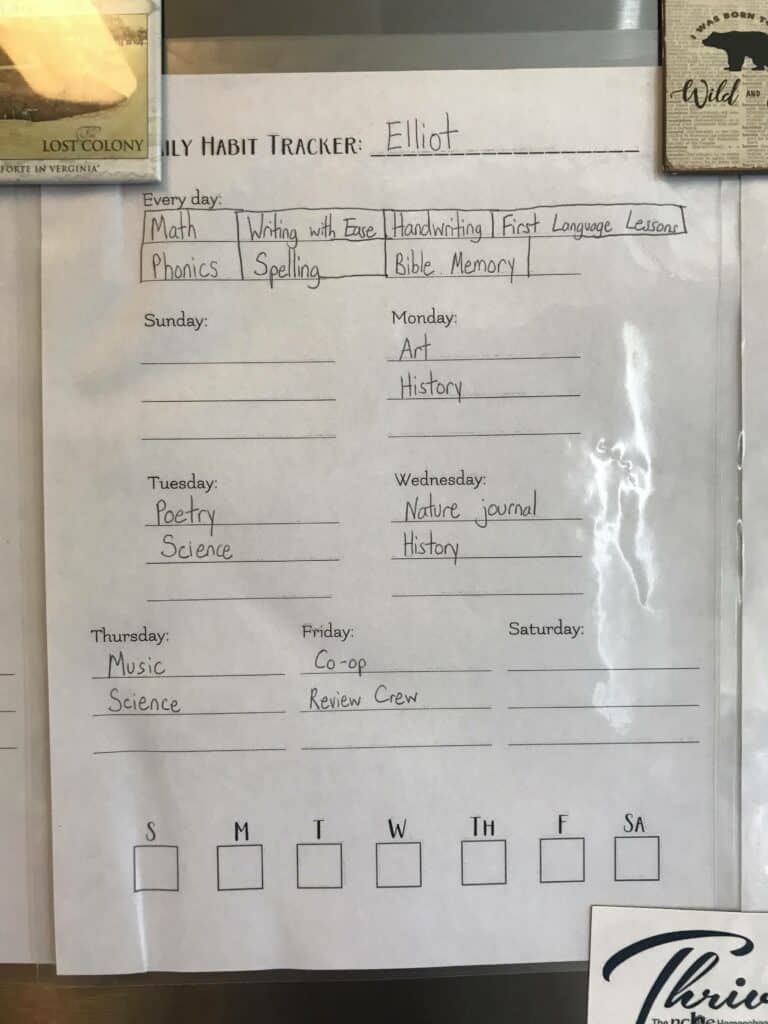 I received these charts in a homeschool bundle I purchased online. Each child has one, and I have one myself to remind myself of household chores.
I like how I can split out daily vs. weekly tasks. Some subjects do not need to be done daily at this age.
We begin by gathering to listen to our Claritas memory work for the week. I purchased a Cross Seven membership, so we listen to the songs that way. My children have dubbed them "school songs." Next, my 2 year old insists that we need to listen to "her school song too," so we listen to a rendition of Jesus Loves Me sung with aplomb by a bunny. My pre-K student then says that we need to listen to "his school song too," so we listen to the books of the Bible. At this point, I end the musical extravaganza and say we need to move on to other things.
My 1st grader does a page of handwriting. As he works, I set up the younger kids with their respective projects. My 2 year old usually colors. My preschool son blew through two out of the three Explode the Code books I had planned for this year already (I am writing this at the beginning of October), so he's working on the A-B-C series from Rod and Staff now. When he is interested, I also do a lesson of Saxon K math with him.
I try to get through as much as I can with my 1st grader while the little kids are occupied. This is the key to a successful homeschool routine with a toddler. For phonics, we will move to the living room where I can still hear the little kids at the dining room table, but where he can also focus more easily. We will also jaunt through First Language Lessons and spelling. When duty calls, I pause and redirect the little kids. My oldest is learning to stay put during these interruptions, because I will come back and resume as quickly as possible.
I classify school subjects in two main categories – are they heavy on input, or heavy on output? An input heavy subject is something like listening to a chapter being read aloud or listening to memory work songs. An output heavy subject is something that requires the child to produce a lot of answers or do a lot of writing. I try to sequence the school routine so that my son doesn't get bogged down with doing too much output in a row.
When I feel that he's ready for a break from output heavy subjects, I either move on to working with my preschooler, or we all reconvene to listen to either history or science read alouds. We use Story of the World as a spine and various corresponding picture books for history. The Claritas memory work sentences are our science spine, and I also incorporate lots of picture books and hands-on experiences. We aim to cover history twice a week and science twice a week. All my 1st grader needs to do is listen, so it's a nice break for him. All three kids typically eat a small snack while I read aloud.
When he's ready to go back to output heavy content, we do his math lesson. My oldest can do the math fact drill page at least partially on his own, which frees me up to go redirect the others.
We spend more time on character than anything else. School time forces sins to the surface that cannot be ignored – and I am including my own sins here! And though I spend more time than I would prefer on character issues, I try to remind myself that this is laying a foundation to make our days go more smoothly later.
Both boys work on Bible memory with their Awana books. We are not a part of a formal Awana club, but individuals can order the books online.
We all enjoy our days more when we leave the house, so typically around 10:30 or 11:00, we pack it up and go somewhere. Our frequent haunts include the library, local parks, and my middle child's weekly class on Thursdays. We return home in time for lunch and then settle the little kids down for their naps at 1:00.
By then, my 1st grader has enjoyed a nice long break and is ready to dive into whatever school work didn't get accomplished during the morning. Most of the time, that's just Writing with Ease, but sometimes we need to revisit other things as well. Spelling tests usually take place during this block. He is in his first year of doing narration and copywork, so we work closely together as he learns new skills. If we have a product we are reviewing for the Homeschool Review Crew, we use it during the afternoon.
As a reward, he rounds out his day with Reading Eggs. He loves the game-like feel and I love that it reviews his phonics concepts with minimal assistance from me.
Our days are full of whimsy and energy, but they're full of fun too.
My Previous Routine Posts:
Our Homeschool Routine with a Preschooler, a Toddler, and a Baby – ages 4, 2, and 7 months
How to Homeschool with a Kindergartener, a Preschooler, and a Toddler – ages 5, almost 4, and 19 months