This post contains affiliate links, which means I might make a small commission if you make a purchase. This does not affect your cost. Thank you!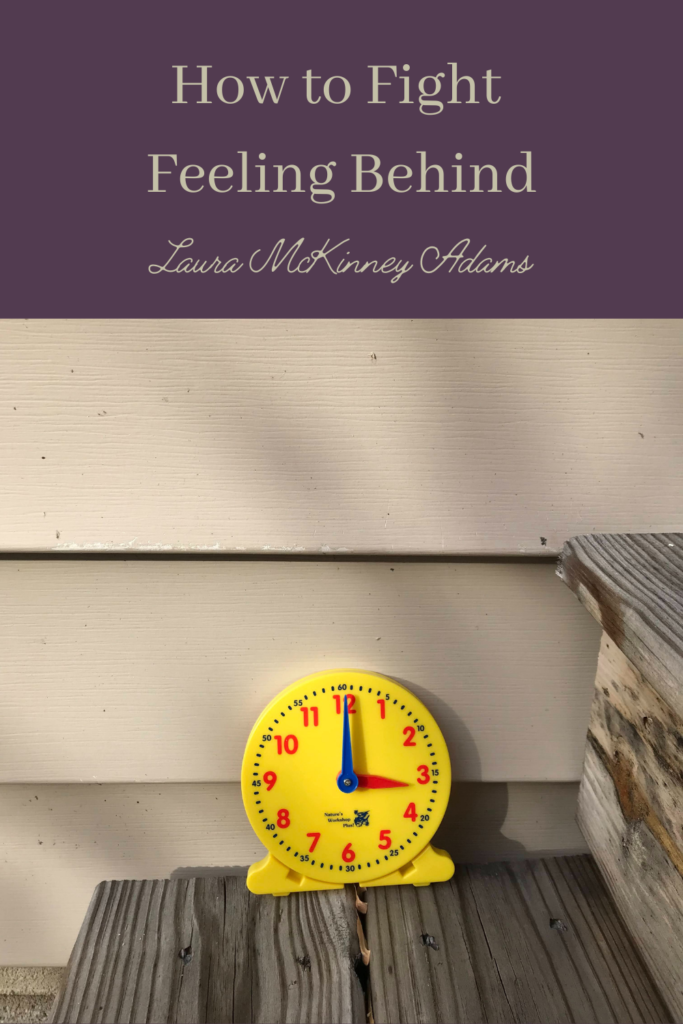 I frequently hear moms worry about being behind. I've fallen prey to that idea myself. Comparison is seductive. It sucks us into a vortex of doubt and self-condemnation. How do we fight feeling behind?
Feeling as if we are behind is understandable, really. We all want what's best for our children. The trouble comes when that pursuit transforms from a noble goal into a set of shackles. 
Here are some steps I've taken to get off the mental hamster wheel of "Am I doing enough?"
Prioritize
In Stephen Covey's book, The 7 Habits of Highly Effective People, he suggests that we "begin with the end in mind." Stated simply, we should think about our end goal as we start our work. In the homeschool setting, consider what sort of person you want your child to be as an adult.
Everything you do as a part of your school day should be feeding into those end goals. Practicing math facts builds discipline. Reading the Bible teaches the major themes and concepts of Scripture. Learning phonics is the first step to being able to learn about countless topics. Hymns connect us to our heritage as people of faith.
If something in your school day is not contributing to the sort of person you want your child to be as an adult, drop it. I'm serious. There aren't enough hours in the day for everything. Spend your energy on that which is truly important to you and your family.
Time Blocks
I divide my day into blocks. I have a block for homeschooling, a block for my toddler daughter's traditional cranky hour, a block for cleaning, a block for rest time, a block for meal prep, etc. 
To fight feeling behind, I don't worry about anything other than what I'm supposed to be doing in the current time block. If I'm working on school work with my sons, I'm not trying to write, clean, or do anything else besides teach. I used to try to run and switch laundry over between school subjects with my son. While that might be okay with an older child, he is 5 and really needs me by his side to keep him on task. Once I let go of the idea that I should be multitasking, our school time became much more peaceful. 
Margin and Buffer
It takes forever to go anywhere alone with three little kids. We can hem, haw, and generally bemoan that this is reality, but that doesn't change the facts. Estimate how much time it's going to take you to arrive at your destination. Then add 15 minutes. If there is a delay, then you don't have to feel rushed and stressed. If there isn't a delay, you can relax and enjoy your buffer.
Re-evaluate Outside Commitments
Right now, I'm in an intensive season of mothering. It is not the time to be the nursery coordinator, to be on the board of the homeschool group, or to launch a business. Too often, young moms feel pressured to do All of the Things. Resist hustle culture (that's probably going to be a whole blog post at some point). Breathe.
"He shall feed His flock like a shepherd: He shall gather the lambs with His arm, and carry them in His bosom, and shall gently lead those that are with young." – Isaiah 40:11
Get off the Internet
Yes, I completely acknowledge my own hypocrisy in making that statement…on the internet. But seriously, the homeschool niche of the internet can be overwhelming at times, and it's perfectly acceptable to step away from it when it's too much.
Personally, I try to avoid looking at curriculum reviews after I've made my selections for the school year. It causes unnecessary consternation and angst. I end up wondering if my son could have learned to read more effectively somehow if only I had purchased that expensive program with the 87,924 letter tiles.
But what if I'm ACTUALLY behind?
There is such a thing as being actually, truly, legitimately behind, a situation which can be caused by any number of factors. The level of concern should correspond to the age of the child and his or her goals. A very young child (under 8 years old) can make up any missed material easily before graduating from high school. Since I haven't yet parented older children, I won't attempt to speak to that.
I hope this article encourages you to not grow weary in doing good (Galatians 6:9). May your home be a place of peace and joy!