This post contains affiliate links, which means I might make a small commission if you make a purchase. This does not affect your cost. Thank you!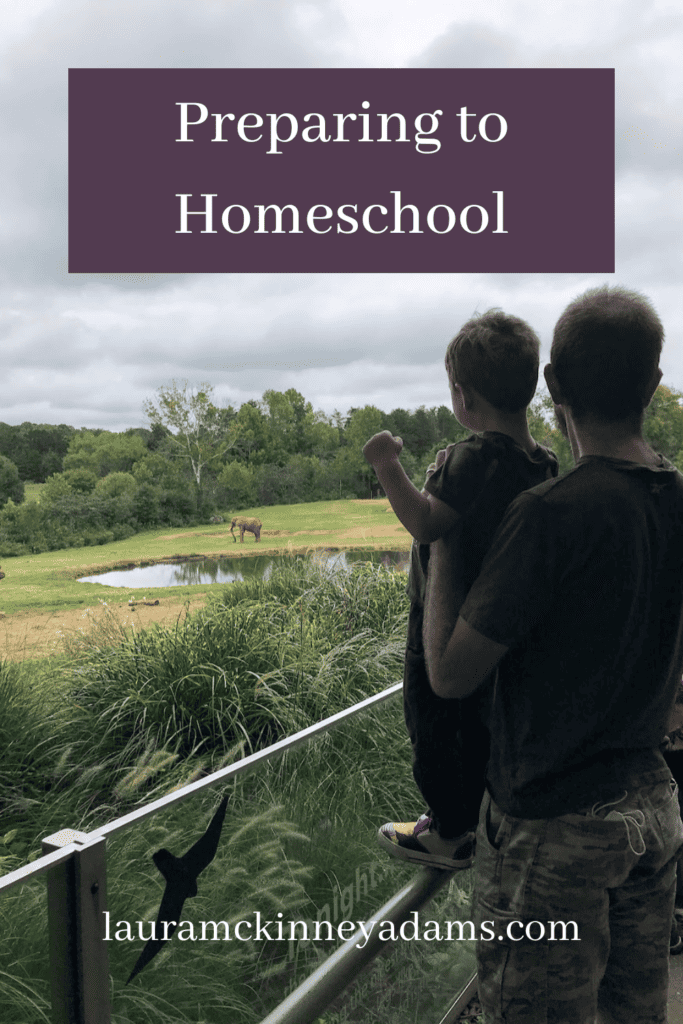 Preparing to homeschool is a project I began when my oldest was about 3 years old. My husband married me for many reasons, but one of them was because I was willing to homeschool. I married my husband for many reasons, but one of them was because he was on board with homeschooling. We were both homeschooled ourselves and had positive experiences.
Because of this background, I have seen the pitfalls that can occur when someone who has a deep desire to homeschool has their first child and is eager to get started. Let's be real here, ladies. Parenting infants and toddlers doesn't feel like much of an intellectual challenge. Being solely responsible for their education? Oh yeah, that's what I'm talking about! 
And so we begin preparing to homeschool. We proceed to buy all manner of educational materials for our little ones. Earth toned math manipulatives that look gorgeous on Instagram, chapter books to read aloud, and worksheets…way too many worksheets. No 2 year old needs a worksheet. I will die on this hill. 
I love the energy and enthusiasm! I can relate to this struggle myself. But before you buy anything else for your not-yet-school-aged child, do this instead:
Buy books for yourself.
Invest in yourself in a way that will benefit your children later.
Since you have time before you need to begin formal schooling, think about your goals. Why do you want to homeschool? What do you hope for your children? Do you want their education to look just like it would have if they had gone to public school? Why or why not? If you want it to be different, in what ways do you want it to be different? Keep a notebook with your thoughts. Someday, it will be a blustery day in the middle of February. You will be wondering why you ever set out on this journey, and having your reasons written down somewhere will bless you.
What is your philosophy of education? I did a lot of reading before I settled on my answer to this question. Even if you think you already know, read some books by people who ascribe to other educational philosophies. It will stretch your mind and help you become more well-rounded.
Classical Education:
My personal favorite work on classical education is The Well-Trained Mind by Jessie Wise and Susan Wise Bauer. I will give the caveat that it is utterly overwhelming when read for the first time. It is intended to be a reference work, with portions being re-read as they become relevant to your current season of life. I have both the first edition and the fourth edition. It's worth it to spend the money on the most recent edition, as their curriculum recommendations have been updated.
In conjunction with reading their book, I also recommend listening to some of Susan Wise Bauer's lectures. They will give you a better picture of what classical education looks like in real life.
Charlotte Mason:
For the Children's Sake by Susan Schaeffer Macaulay is a simple introduction to the work of Charlotte Mason. If you are intrigued by Charlotte Mason philosophy after you read this book, you may wish to dive into Charlotte Mason's original series of six books on education. Begin with her book Home Education, because it is focused on the education of young children, up through the age of 9.
Ambleside Online has made both the original Charlotte Mason series, as well as a modern paraphrase of it, available for free on their website.
Unschooling/Delight Directed/Relaxed:
In the spirit of full disclosure, I am not anything remotely close to an unschooler. However, I found it beneficial to read The Brave Learner by Julie Bogart. The author is a free spirit and a fun mom. Even though I'm not nearly as delight directed as she is, she inspired me to say yes to having fun with my children more often, and there is value in that.
General Homeschooling Books:
Teaching from Rest by Sarah Mackenzie is an easy read, but it's one that you'll want to return to again and again. She discusses the balance between diligence and maintaining a sustainable pace.
Honey for a Child's Heart has book recommendations for babies all the way up to older children. It's a good reference work for all families, not just those who homeschool.
If you have ever taught in a classroom setting, Rethinking School by Susan Wise Bauer is a thought provoking read. Do you know why we have age-graded classrooms? Rethinking School answers that question and many more.
Best wishes as you read, study, pray, and think through preparing to homeschool your little ones!