This post contains affiliate links, which means I might make a small commission if you make a purchase. This does not affect your cost. Thank you!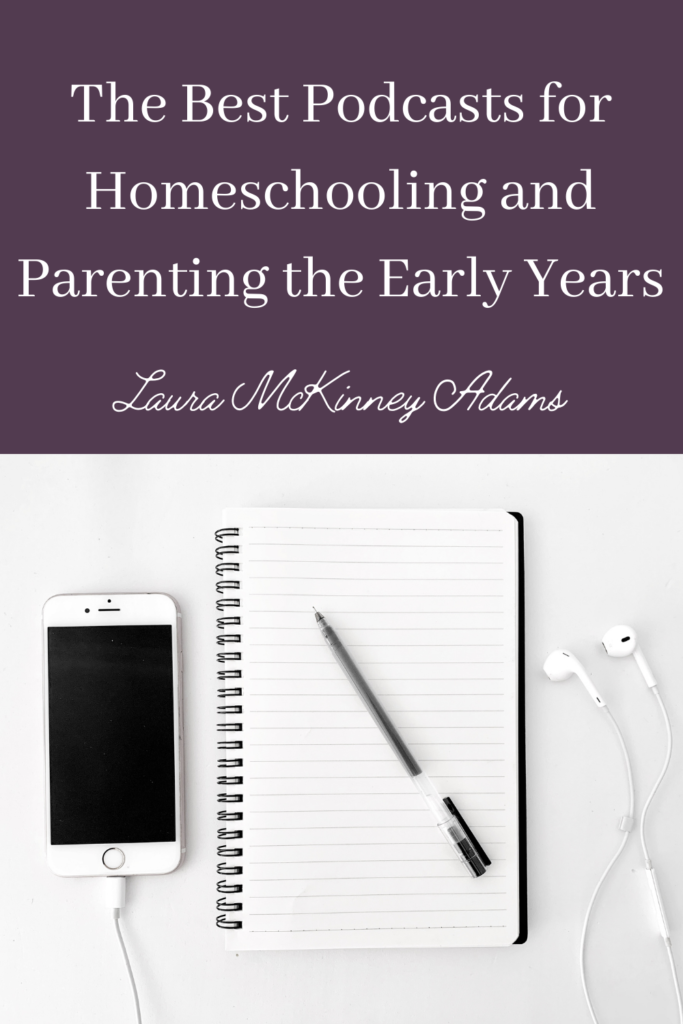 When my children were all preschool aged and younger, I was constantly physically busy, but I was rarely mentally busy. I soon realized that I'm the sort of person who is happiest when she is also mentally busy.
Enter: podcasts.
I knew I wanted to find all the best homeschooling podcasts, so I listened to a slew of contenders during those early years of motherhood. As I've begun homeschooling my kindergartener "for real," my podcast listening time has decreased, but these all still hold special places in my heart. 
Homeschooling Podcasts:
The New Mason Jar – Everything Cindy Rollins puts out is fabulous, and her latest podcast is no exception. She is such a warm, nurturing, grandmotherly type. She is one of the foremothers of the Charlotte Mason resurgence in the homeschooling community. She was instrumental in the development of the Ambleside Online curriculum. While I lean a bit more towards the classical end of the spectrum, I still glean good ideas from her discussions.
Favorite Episode: "However Imperfectly"  
Homeschool Conversations – Amy Sloan is a fellow North Carolinian, a fellow second-generation homeschooler, and a fellow fan of classical education, so her podcast is right up my alley. She hosts deep conversations on a variety of homeschooling related topics.
Favorite Episode: "Resisting the Homeschool Stereotypes"
Making Biblical Family Life Practical – To tell you the truth, I'm generally not a huge parenting podcasts/books person, but Hal and Melanie Young's podcast is the exception. They have eight children, six boys and two girls. They are semi-local to me, and they're down to earth and kind. I love their tone and their emphasis on teaching kids practical life skills. This is a homeschooling/parenting crossover podcast.
Favorite Episode: "Motivating Boys to Write"
Non-Homeschooling Podcasts:
Coffee + Crumbs – This one is light and airy. It feels like chatting with a new friend over coffee. There are some episodes that delve into deeper subjects, but mostly it's just plain fun.
Favorite Episode: "What We're Learning about Friendship"
A Slob Comes Clean – While I adore homeschooling, I also admit that it makes keeping my house clean more challenging. Before the pandemic, I worked outside of the home three mornings a week and my children came with me. My husband worked in his office building full-time. Now all three of my children and I are home full-time, and my husband works from home three days a week. We create more messes when we're here all the time! If you love to clean, this podcast is not for you. I find it encouraging and motivational to listen to while I clean.
Favorite Episode: "Getting Started is NOT a Team Effort"
Literary Life Podcast – This one has crossover appeal to homeschoolers and non-homeschoolers alike. The topic is classic literature and the reading life. Two of the three hosts are well-read former homeschool moms. I've learned so much from their discussions! All of the episodes are lengthy and meaty. It takes me a while to finish one, but I always feel as if I'm a more educated person for persevering afterward.
Favorite Episode: "Witches, Wizards, and Magic, Oh My!"