This post contains affiliate links, which means I might make a small commission if you make a purchase. This does not affect your cost. Thank you!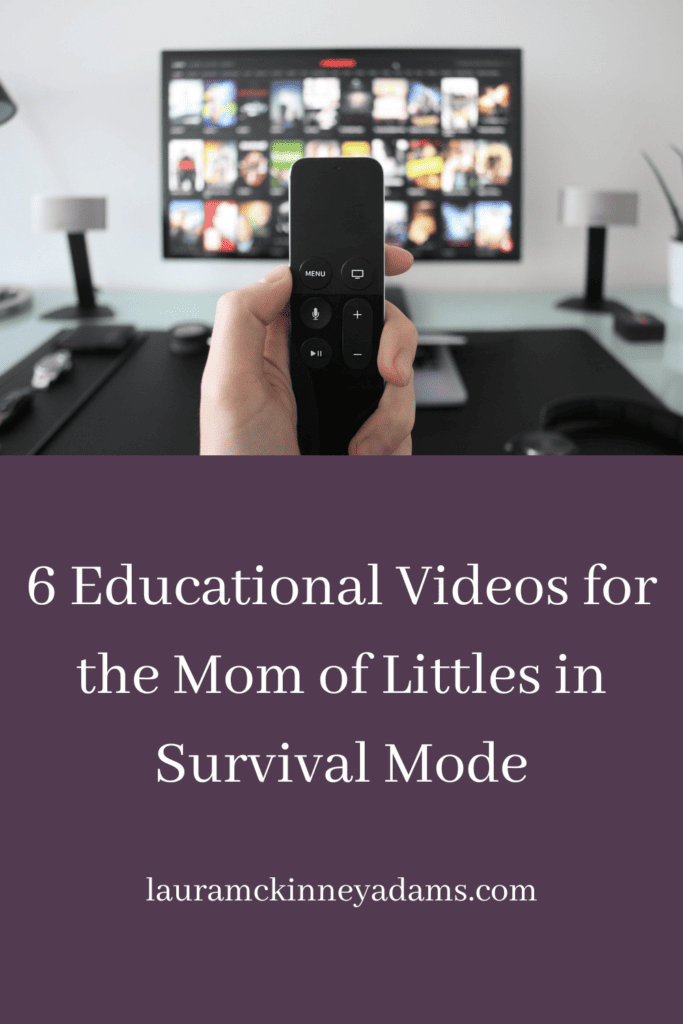 My daughter was born at the end of my oldest's 3 year old preschool year. Between it being the end of the year and the fact that he was a newly minted 4 year old, I didn't worry too much about school. However, juggling a 4 year old, a 2 year old, and a newborn called for more screen time than usual. It was my third postpartum experience, and I knew enough to be prepared with easy snacks and educational videos.
You may find yourself in survival mode. My family has dealt with the loss of a grandparent, a baby with a heart defect, and chronic illness in our two years of homeschooling. I'm thankful for the flexibility we've had to deal with these things.
Here are our top picks for educational videos!
Daniel Tiger
Daniel Tiger can be streamed on the PBS Kids app. We also own a few episodes on DVD. Daniel Tiger holds the interest of kids ages 18 months to 5 years in our house. My 6 year old is starting to get too cool for Daniel Tiger, but he'll still watch it occasionally.
Daniel Tiger is great for social skills, emotional regulation, and basic life skills. We bought a Daniel Tiger book about being a big brother for my middle child when I was pregnant with my daughter. I think it really did help him adjust. My oldest named a baby doll Margaret after the baby sister character on Daniel Tiger. Where else would we have learned such great toddler life hacks as "it's almost time to stop, so choose one more thing to do"?
2. Leap Frog
Leap Frog offers a plethora of educational content. If you only buy one Leap Frog DVD, purchase Letter Factory. I used to recommend Letter Factory to my preschool students, and it has also done wonders for my own children.
I also bought this 10 DVD set to use when I was postpartum with my daughter. It was worth every penny. It includes both math and phonics content.
3. Preschool Prep
Preschool Prep can be viewed on YouTube or on their DVDs. We usually use YouTube, but their videos do have approximately 589 ads per episode, which have to be skipped. I am tempted to break down and buy the DVDs because of that issue.
Despite the name Preschool Prep, some of the videos go far beyond preschool level material. I have my 6 year old watch their Math Facts series, which is completely appropriate for his age and skill level.
Here are the kindergarten/1st grade appropriate titles:
Meet the Math Facts – Addition and Subtraction – Level 1
Meet the Math Facts – Addition and Subtraction – Level 2
Meet the Math Facts – Addition and Subtraction – Level 3
Meet the Sight Words – Level 1
Meet the Sight Words – Level 2
Meet the Sight Words – Level 3
Meet the Sight Words – Level 4
4. What's in the Bible?
The only streaming service we pay for is Minno. Minno has all Christian kids' shows. My personal favorite is What's in the Bible. Think VeggieTales meets Sesame Street! My kids love the puppets and songs. I love that it covers the ENTIRE Bible. No skipping over Leviticus here, yet it's all done in an age appropriate way.
5. The Magic School Bus
I think The Magic School Bus is best for ages 5 and up. My younger kids like it, but the educational content is lost on them. My oldest has learned a lot though. The episodes cover all sorts of science topics. I integrated pertinent episodes into our 1st grade science studies.
6. Wild Kratts
Wild Kratts features the same brothers from the 1999 series Zoboomafoo. In this iteration, they spend most of their time as animated characters. My 4 year old is a big fan. You can watch it for free on PBS Kids.
I hope this list gave you some ideas for educational videos for your littles. Hang in there. You will get through this season.