This post contains affiliate links, which means I might make a small commission if you make a purchase. This does not affect your cost. Thank you!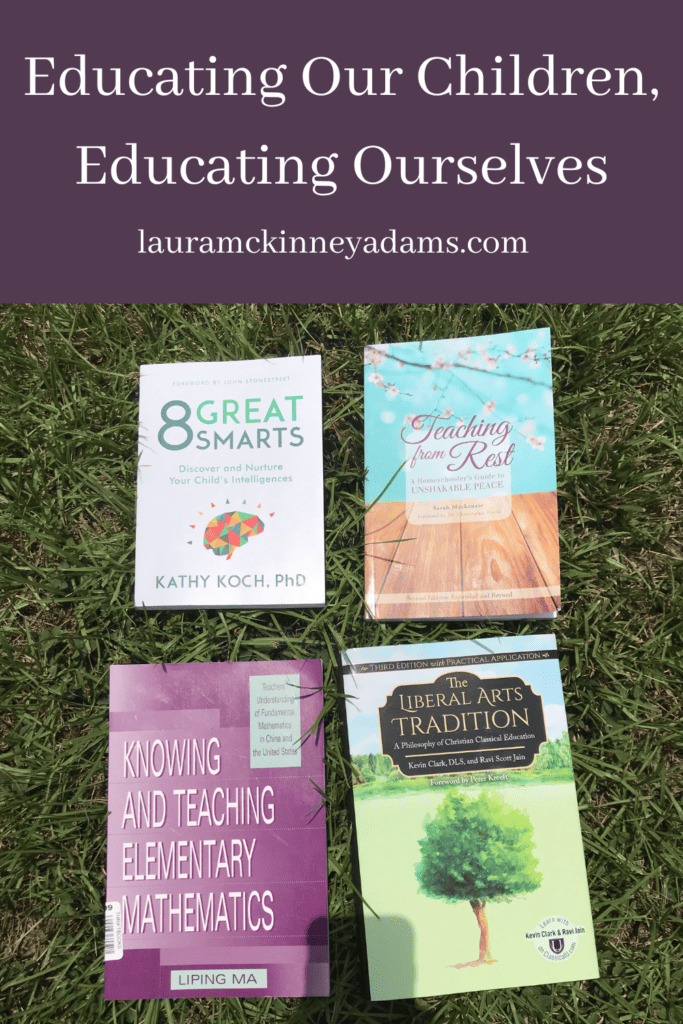 Homeschool books for moms can be a valuable tool as we learn how to better educate our children. My tagline for my blog is "classical education for children, lifelong learning for moms." I advocate for moms to stretch themselves intellectually and to learn new things. When we model an inquisitive spirit, we pass it onto our children.
I also think of homeschooling as my job. Over the summer, I plan to read the following books. Not all of these are explicitly marketed as homeschool books for moms, but I think there is value in each of them.
Teacher Training 2022:
Knowing and Teaching Elementary Mathematics by Liping Ma – I am terrified of ruining my children's math education. This is a major reason why I use Saxon Math. It's scripted for me, it's been around for decades, and it works. Since I recognize my weakness in math instruction, I'm working towards improving. (But I still might outsource math later when my kids are older. I can hang with the basic operations my son is working on in 1st grade, but I'm not going to teach calculus.) Hopefully this book will give me some new ideas for math instruction.
The Liberal Arts Tradition by Kevin Clark and Ravi Jain – I've heard rave reviews of this book for years, but haven't read it myself yet. It's a weighty tome that I'll read with a highlighter in hand.
Teaching from Rest by Sarah Mackenzie – is an annual re-read for me. I read it last year with a group of moms from my local homeschool support group. If you're only going to read one homeschool book, read this one. It clocks in at 81 pages, so it's a quick read.
8 Great Smarts by Dr. Kathy Koch – I heard Dr. Kathy speak at the NCHE Thrive conference and purchased her book while I was there. For years, I've been preaching that every child has strengths, and it's our honor to help them find their strengths. Dr. Kathy says that it's not a question of if kids are smart, but rather how they are smart.
What are you reading this summer? Leave me a comment and let me know!